"If beef is not included", there won't be no Mercosur-EU trade agreement, warns Uruguay
Tuesday, September 13th 2016 - 09:55 UTC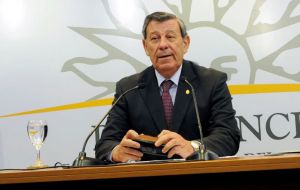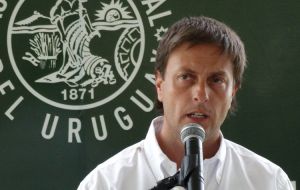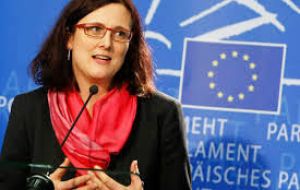 "If beef is not included, there won't be any agreement", said Uruguay's foreign minister Rodolfo Nin Novoa in anticipation of next week's meeting of European Union and Mercosur coordinators to adjust the list of goods and services the two blocks will formally exchange in mid October, the first formal meeting of its kind in fourteen years.
The announcement triggered strong reaction from Irish lawmakers.
Nin Novoa said that among the goods to be negotiates is beef, which is one of the main products because, "if it does not include beef, there won't be any agreement"
"So far what we've had with the EU are tentative exploratory exchange of proposals. But next month we will be holding the first formal meeting, the first in over fourteen years" revealed Nin Novoa following a meeting with Uruguay's chair of the Rural Association Ricardo Reilly at the Expo/Prado agricultural show.
"I've told ranchers that if there is no inclusion of beef, there's no deal, that is plain clear" emphasized the minister in reference to Uruguay's position in the mid October negotiation.
During the first eight months of the year, Uruguay's exports of meats, offal and other sub-produce totaled US$ 1.1bn, with China leading with US$ 396 million followed by the EU with US$ 249 million.
Reilly said that the meeting with the minister had been very positive, since "we have many points in common, particularly the way Uruguay must become fully integrated internationally in commerce and trade".
Although Mercosur is involved in an uncomfortable situation because of Venezuela's self imposed pro tempore chair of the group, the fact is that Uruguay remains as the main negotiator with the EU, since trade negotiations only involved the four founding members of the group, Argentina, Brazil, Paraguay and Uruguay.
However in Ireland the news did not have a positive echo since last May the EU Commissioner for Agriculture, Phil Hogan, announced that beef was "off the menu" in Mercosur trade talks. But the EU Commissioner for Trade, Cecilia Malmström, has told member of the European parliament, MEP Marian Harkin that this is not the case.
In a written question to Commissioner Malmström, MEP Harkin asked if "beef could still be added to the trade offer at a later stage, or if beef is completely ruled out from any trade agreement with the Mercosur Countries?".
In her response, the Commissioner stated that "it is unrealistic to expect Mercosur to conclude negotiations with the EU without obtaining any improvement in their access to the EU market for beef" and that to reach an agreement with Mercosur will require making "market access concessions on partner countries key export interests".
MEP Harkin then said that "this is very worrying for Irish beef farmers who are already experiencing an extremely difficult income crisis. If large quantities of Brazilian or Argentine beef were allowed to be sold in the EU it would automatically have a detrimental impact on Irish farmers and may even put many out of business".
She stressed that "Irish farming organizations must react quickly to this statement and continue to pressure the Irish Minister for Agriculture and the Commission to not conclude any agreement with Mercosur if sensitive agricultural products, such as beef, are on offer".