Falklands' Sea Lion oil project break-even price reduced to US$ 45 a barrel
Thursday, September 15th 2016 - 10:34 UTC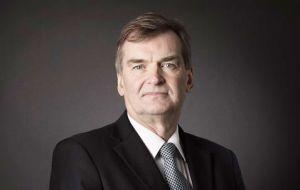 Falkland Islands oil explorer Rockhopper Exploration Plc has confirmed cost cuts at its Sea Lion project, which will reduce the scheme´s break-even price to US$ 45 a barrel. Capital investment at Sea Lion to reach first oil is now estimated at US$ 1.5bn.
Chairman David McManus said: "We continue to make very good progress in advancing the Sea Lion development, taking advantage of the current industry backdrop to reduce costs and the break-even oil price required to sanction.
"The results of the highly successful exploration campaign and the subsequent independent resource audit further supports Rockhopper view that the North Falkland Basin has the potential to deliver multiple future phases of development and, ultimately, a billion barrels of recoverable oil."
The comments were made following the company's announcement of an increase in production after snapping up assets in Egypt. The acquisition of Beach Egypt means the group expects average production to be about 1,500 barrels of oil equivalent per day for the rest of 2016.
The group said it had maintained balance sheet strength with cash resources at September 1 of about US$75m.