Brazil and Uruguay agree on a Mercosur with "a greater open integration"
Tuesday, September 20th 2016 - 09:53 UTC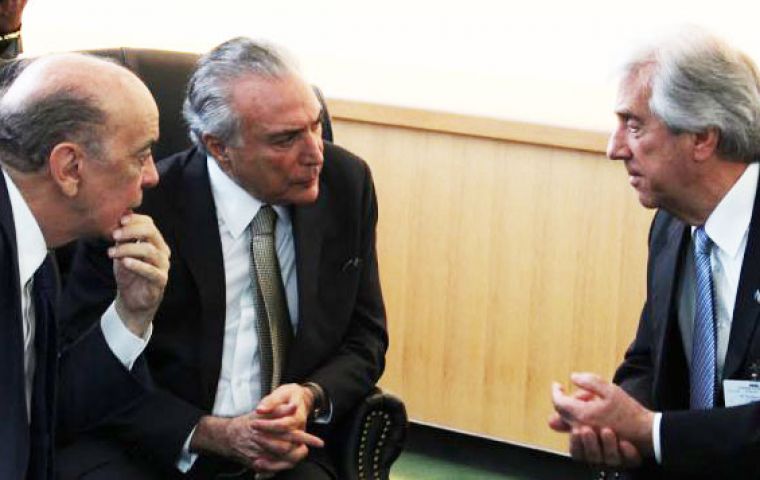 President Tabare Vazquez confirmed on Monday that Uruguay will continue as "coordinator" of discussions between Mercosur and the European Union to reach a wide ranging trade agreement.
The Uruguayan leader made the statement following a 45 minute meeting with Brazil´s Michel Temer on the sidelines of the UN General Assembly in New York, when he also announced that Mercosur will also be implementing a "process of greater open integration".
"The meeting was positive and we agreed with president Temer that Uruguay will continue as coordinator of trade talks with the EU which are scheduled to hold a decisive round next month in Brussels", Vazquez was quoted, adding that Mercosur was the main question of the meeting with his Brazilian counterpart.
Vazquez revealed that the issue was addressed, agreed and signed on Sunday, following a meeting of Mercosur four founding members foreign ministers, (Serra, Malcorra, Nin Novoa and Loizaga) "Uruguay is coordinator of the discussions with EU and will continue in Brussels".
Brazil's president and foreign minister value very much and distinguish Uruguay's role in Mercosur affairs, said minister Jose Serra.
There was a feeling of relief following the first meeting between the two presidents which was also attended by foreign minister Nin Novoa and Finance minister Danilo Astori, since relations with Brazil had been somewhat strained over Mercosur presidency differences and Venezuela's situation.
Vazquez also mentioned he agreed with Temer on "the need to advance in a process of more open integration", which will enable Mercosur members to advance in bilateral agreements with third parties, be it countries or trade blocks.
This has been a long standing demand from Uruguay since it is particularly significant for small countries' economies.
The Uruguayan president revealed that Temer extended him an invitation to Brazil, which he accepted, but it will have to take place next year, since the Brazilian leader has a full agenda.
Nevertheless Temer will be visiting Buenos Aires next 3 October to meet with Argentine president Mauricio Macri.
Another issue at the meeting was taking advantage of the regional infrastructure to promote and expand trade, an issue which also interests Macri and is mainly the development of the vast water ways that unite the four founding members of Mercosur, Argentina, Brazil, Paraguay and Uruguay.

According to the Brazilian presidency, Temer expressed his desire for a greater "harmony among Mercosur members" plus "more intense relations independently of what party or person rules, what matters are the institutions".
The Brazilian presidency also mentioned that Vazquez underlined the importance of intensifying relations with Brazil in line with historic, political and trade links.
Temer who at all time was accompanied by his foreign minister Serra described the meeting as "most positive" and regarding Mercosur, "sometimes small issues emerge which are manageable and can be solved", but the important thing is that Brazil "is convinced of Mercosur, has been for a long time, we are members and sponsors of the block".