Macri calls for sovereignty dialogue on Falklands in his speech to UN General Assembly
Wednesday, September 21st 2016 - 08:27 UTC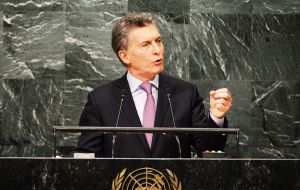 In his first speech as head of state before the United Nations General Assembly, Argentine President Mauricio Macri called on the United Kingdom to find "an amicable solution" through dialogue to the long-standing dispute over the Falklands/Malvinas Islands sovereignty..
In a 16-minute speech on Tuesday before the UN General Assembly, Macri reiterated his call to a dialogue with London to "solve the two-century dispute in a friendly manner" adding his administration "has shown interest in moving forward in the bilateral relations which should be mutually beneficial."
Dialogue and the peaceful solution of controversies is the basal stone of democratic Argentina's foreign policy, said Macri who then reiterated his call to dialogue with the UK, "as mandated by so many resolutions from this organization to solve the two century sovereignty dispute amicably (Falklands, South Georgia and South Sandwich Islands and the surrounding maritime spaces)".
"We have given signals of interest in advancing in our bilateral relation, which can and should be mutually beneficial. That is why we also trust that it will be possible to activate a definitive solution to this prolonged dispute", underlined the president.
Among other international issues Macri spoke about drug trafficking, climate change and invited international investors to trust Argentina. He also endorsed Foreign Affairs Minister Susana Malcorra in her bid to become the next UN Secretary General, and was grateful for all the support received.
Argentina "has chosen the path of trust between each other" and "results of the change are being seen, with the normalization of the macro-economy and a mature relationship with the rest of the nations and multilateral organizations."
"We have returned to the international credit markets and many companies are trusting our country," he added.
Macri told the UN General Assembly that his government has three main objectives, advancing to "zero poverty" with equal opportunities for all. The second is defeating the drugs trade, an integral agenda based on human rights and concentrated both in supply and demand.
The third objective, to unite all Argentines through dialogue, respect for rule of the law and democracy.
The president also committed Argentina to help with the refugee challenge and anticipated the country will increase the number it will receive, gradually, giving preference to families with children, based on reception capacity, financial and international support.
Macri condemned terrorism and called on the international community to help solve the two major such attacks in Argentina, in 1992 and 1994, and bring those responsible to face justice. "To combat this phenomenon international cooperation is indispensable. For that we need to promote development which does not end at borders".
Climate change also was part of the message, described as the main challenge for humanity, of which awareness is essential particularly on how to advance and not condition the future. "We signed the Paris Accord and we call on the international community to make the greatest effort so we can celebrate the accord becoming effective"
Macri then mentioned Pope Francis as an example of peaceful coexistence. He said Argentina has celebrated two centuries of independence and is a country that has always opened doors to all those men and women looking for a better life. "We peacefully coexist, Christians, Jews and Muslims, we are an open society to the world in which fragmentations proliferate. We must not fear interdependency. We have to look after this common home in which we must coexist in peace, as Pope Francis said".
The president admitted that Latin-American is going through a complex economic and social situation and rescued some measures against poverty implemented by governments of the region. "I come from a region where we think as a common neighborhood. During recent years, Latin-America made great efforts to reduce poverty based on robust social policies and the international context. But today the context is different, the trade balance is less favorable and inflation punishes those with the least". Finally Macri thanked Ban Ki/moon who is presiding over his last general assembly.
The Argentine president had a special first line audience made up of his delegation including First Lady Juliana Awada, Chief of Staff, Marcos Peña; Chancellor Susana Malcorra; President of the Chamber of Deputies, Emilio Monzó; Secretary of Strategic Affairs, Fulvio Pompeo; the Argentine ambassador in Washington, Martin Lousteau among others.