Argentina "is not surrendering Malvinas"; Macri/May greeting was "a brief casual encounter"
Thursday, September 22nd 2016 - 06:51 UTC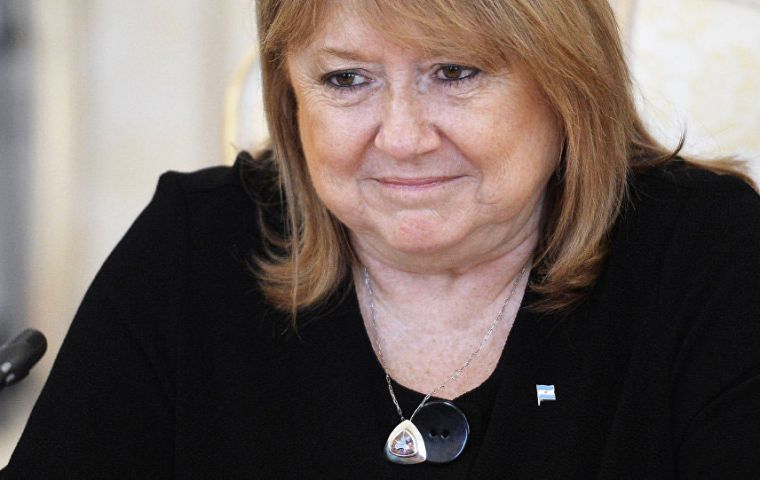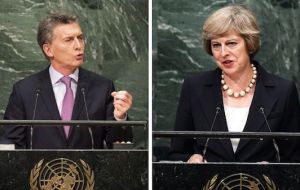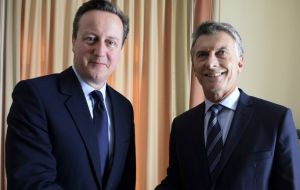 Foreign minister Susana Malcorra said that Argentina is "not surrendering the Malvinas Islands" and explained that Tuesday's exchange between president Mauricio Macri and Prime minister Theresa May in New York, in the framework of the UN annual assembly was "a brief casual encounter".
She also pledged to attend Congress every time it is necessary, to explain the scope of the joint statement signed last week by Argentina and the UK.
From London, Foreign Office sources confirmed that PM May and president Macri held a brief casual encounter, and there was no reference to the Falklands, much less to sovereignty discussions.
"It is difficult to clarify the president, I have to be most careful and prudent about this", said Malcorra in reference to the brief exchange between the two leaders during the banquet hosted by UN.
"It was a brief exchange, very casual in a context where all heads of government and state meet, and president Macri retook the discussion started in Davos with ex prime minister David Cameron, when we agreed, both sides, that we are ready to address all issues, but pointing out that the sovereignty issue is an important part of our agenda", said Malcorra.
The minister said that in reply to Macri, "May told him 'let's work and advance', a positive courtesy reaction to build an agenda a route map"
Obviously, "I don't think that the prime minister in that context said 'Yes I subscribe, let's make the agenda' and that sovereignty is the first point, because it is hard to believe it worked out that way".
Malcorra also addressed the joint declaration which refers to the additional air links between the Islands and the continent, and removing the obstacles that limit the economic growth and sustainable development of the Falklands such a fisheries, travel, navigation and hydrocarbons.
"It's a statement of intentions which defines issues we have to put in an agenda and address. It is an enumeration of issues. We are not surrendering the Malvinas. The statement was overblown as well as the president's comments, as if Malvinas already was at the heart of dialogue".
Malcorra indicated that she will attend Congress every time it is necessary to explain the scope of the joint statement, but she advanced that next week "there will be a more explicative, in depth meeting, in Congress between Deputy minister Carlos Foradori and lawmakers".
"The fact that we are willing to discuss, does not mean to yield or to concede, but rather means listening to the other side. To argue that one loses ground because you sit to talk. it means accepting that no conflict in the world could be addressed and solved", underlined the Argentine minister.
Finally Malcorra argued it was a "simplification" to think there was a link between the joint statement and her bid to become the next UN Secretary General, and for which UK's support is essential in the Security Council.