Argentine congress will be part of the Argentina/UK joint statement discussions
Thursday, September 22nd 2016 - 06:27 UTC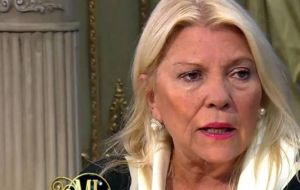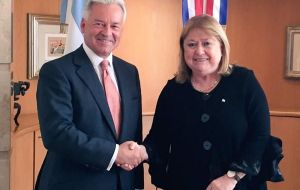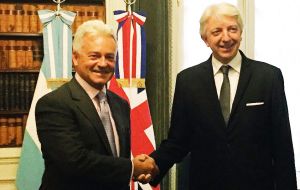 The chair of Argentina's Lower House Foreign Affairs Committee Elisa Carrió has supported president Mauricio Macri's "nonnegotiable" stance on the Falklands/Malvinas sovereignty dispute and attributed the Argentina/UK joint statement controversy to "minor questions of communication", nevertheless she summoned deputy foreign minister Carlos Foradori to Congress next Wednesday.
"I support Macrí's speech on Malvinas at the UN, and I also have a great respect for foreign minister Susana Malcorra, but officials must also learn to respect Congress", said Carrió leader of Civic Coalition and an ally of Macri in Congress.
Carrió was disappointed with the fact that Malcorra visited the foreign affairs committee a few weeks ago, but did not mention a word of the ongoing discussions with the UK, which surfaced when the visit of Foreign Office minister Alan Duncan and the joint statement on cooperation was made public, including the chapter of the South Atlantic.
"One way or another, officials have to learn to respect Congress" underlined Carrió who nevertheless said it was important "no (Malvinas) sovereignty negotiations" are considered, and this is because since 10 December "we have a true republic, a Congress which debates and if needed we can approve, unanimously, a no yield or transfer on the Malvinas question",
Deputy minister Foradori has been summoned to the committee since he signed with Alan Duncan the joint statement that has triggered such controversy particularly on the South Atlantic chapter to which must be added Tuesday's brief encounter of president Macri with Prime minister Theresa May, also blown out of all proportion.
"It will not be a meeting to downplay the situation, on the contrary it will be the beginning of discussions on the issue, not the end" added Carrió. "This is not the hokey nationalism of the last twelve years, it's pure democratic congressional debate". .
Lawmakers from the different groupings in the committee thanked Carrió for her quick decision to convene Foradori and if necessary later on, minister Malcorra.
The dominating position in the committee was in support of "dialogue" and recognition for Macri's speech before the UN General Assembly stating that Malvinas sovereignty is "not negotiable".