Liaison man between Lula and Rousseff's presidencies, and corruption scheme arrested
Tuesday, September 27th 2016 - 10:48 UTC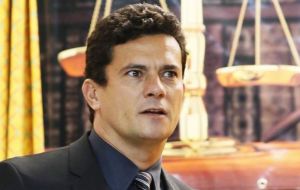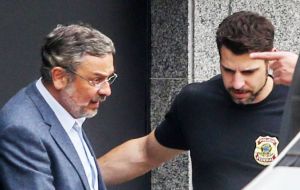 Brazilian presidents Lula da Silva and Dilma Rousseff former Presidential Chief of Staff and Finance Minister Antonio Palocci was temporarily arrested on Monday morning in São Paulo as part of the 35th phase of the Lava Jato (Car Wash) Operation investigating the Petrobras corruption scandal.
The newest phase of the operation, codenamed Omertà (Code of Silence), is investigating evidence of a criminal relationship between the former minister and construction company Odebrecht.
Federal Judge Sergio Moro ordered Palocci's assets and of others accused of receiving as much as R$ 128 million (US$ 39,5 million) in bribes to be blocked. According to the magistrate, this is the amount detailed in a spreadsheet that supposedly records the amounts of bribes transferred to the former minister. The blocking order applies to the bank accounts and investments of those being investigated.
According to the Federal Police (PF), there is evidence that the former minister acted directly to obtain illicit benefits and funds. E-mails that reveal evidence of Palocci's participation in the crimes under investigation are among the evidence that the taskforce has obtained.
Prosecutors said at a news conference that Palocci acted as a liaison between the ruling Workers Party, (PT) and Brazil's largest engineering and construction conglomerate, Odebrecht SA from 2006 to 2013 in a kickback scheme centered on contracts at state-led oil company Petrobras.
"Evidence has surfaced ... that he was responsible for coordinating his political party's receipt of surreptitious payments from the Odebrecht Group," read Monday's search and arrest warrant signed by anti-corruption judge Sergio Moro.
Investigators allege Palocci improperly approved loans from state development bank BNDES to Odebrecht in Africa and for oil platforms. They also allege that he pushed legislation through Congress to help the company win tax advantages.
Prosecutors said they had found evidence that Odebrecht paid 128 million reais ($39.5 million) to the Workers Party and its representatives between 2008 and 2013, including Palocci.
Construction magnate Marcelo Odebrecht, whose family owns the namesake company, received a 19-year sentence in March for bribery, money laundering and organized crime in relation to the scandal at Petrobras.
Odebrecht papers referred to Palocci as the "Italian" and this nickname shows up in payment spreadsheets that had been seized by the PF in previous chapters of the investigation.
Branislav Kontic, a former aide to Palocci when he was Presidential Chief of Staff, and Juscelino Dourado, his Chief of Staff when he was Finance Minister, also had warrants issued for their arrests. Kontic, also known as "Brani" continued working with the PT leader even after he had left his formal position.
Under the scope of the plea-bargain deal that the firm is negotiating with Federal Prosecutors and Police, executives from the company are providing detailed information regarding the relationship between Palocci and the group.