Palocci, the brainchild behind the successful years of ex president Lula da Silva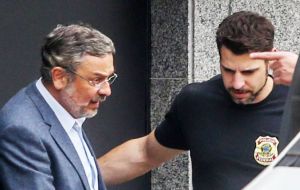 A medical doctor by training, Antonio Palocci was Brazilian former president Luiz Inacio Lula da Silva's finance minister and a key player in the 2002 election campaign that put the union and PT (Workers Party) leader in the presidential seat.
Palocci's arrest brings the investigation of Brazil's biggest corruption scandal further into the core leadership of the PT. Last week, police detained Guido Mantega, who succeeded Palocci as Lula's finance minister and stayed in the post for almost nine years.
Mantega, who was accused of corruption, was released after a few hours. Palocci was picked up on the same warrant, which could mean his detention will also be brief.
"This is another nail in the Workers Party coffin," said Andre Cesar, a political analyst at Brasilia-based public policy consultancy Hold Legislative Advisors. "The circle is closing."
Lula was indicted last week on corruption charges in a case involving a luxury seaside apartment that prosecutors say was a disguised bribe from a construction company implicated in the Petrobras scheme. Still one of Brazil's most popular politicians, his arrest is unlikely before he goes on trial.
Palocci helped Lula change his image from a leftist radical into a business friendly and socially progressive leader who finally secured election on his fourth bid. As finance minister from 2003 he continued the anti-inflation and pro-market policies of the previous centrist government, helping calm financial markets' concerns about Lula's presidency.
But Palocci was forced to resign in 2006 amid allegations he lied to congress about frequenting a mansion used by lobbyists in the capital Brasilia, where political graft was alleged to have been negotiated.
He joined Rousseff's administration as chief of staff. However, he stepped down six months later on media reports that his personal wealth jumped by a factor of 20 as a consultant for private companies while also serving in Congress from 2006 to 2010 During 2010, he had been the coordinator of her presidential campaign.