A Falklands' annual event: Chilean Independence Day celebrations
Thursday, September 29th 2016 - 19:40 UTC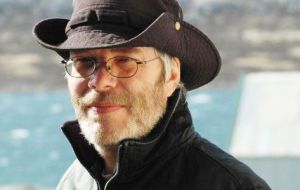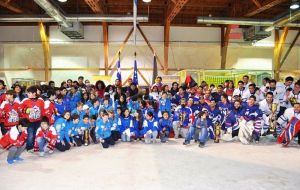 Chilean Independence Day celebrations were again held in the Falkland Islands this year, with the main event being hosted at Government House in Stanley, demonstrating the strong relationship that has formed between Chile and the Falklands in recent decades.
There were celebrations in the Falklands to mark the Chilean Day of Independence on the 18th September, with events being held over the weekend to commemorate the occasion. It was 206 years ago, in 1810, when Chile proclaimed itself an autonomous republic from the Spanish Empire and celebrations are often held over the whole week to mark the occasion.
In Stanley, a reception was held at the Governor's residence – now an annual event at Government House – where members of the local Chilean community attended and performed a number of traditional pastimes, including the Cueca (the national dance of Chile). The Government House event has been held every year to "celebrate the relationship between Chile and the Falklands".
The Falklands is home to around 200 Chileans, with many more arriving during the summer months to undertake temporary work. Over the past twenty years the number of Chileans in the Falklands has increased by over 400%, growing from only 43 in 1991 to 181 recorded 21 years later in 2012. The Chilean community now accounts for over 6% of the total population in the Falklands.
A Chilean consulate was first established in the Falklands in 1877 and the relationship with Chile has only strengthened considerably over the past 25 years, especially owing to flights which began between the two countries in 1990. A weekly flight still currently operates to Punta Arenas in the south of Chile, and helps to transport goods and people to and from the Falklands. Shipping links also exist between Stanley and Punta Arenas, and help to transport goods to large or expensive to be air freighted.
In addition, health services have been central to the recent relationship, with residents of the Falklands travelling to Chile for medical care when services are unavailable in Stanley. Member of the Falkland Island's Legislative Council, Gavin Short, commented last week that the Falkland Islands Government is "most pleased and satisfied with our Chilean clinics contacts and the health services we receive in Chile are excellent".
Joshua Peck - Stanley