Punta Arenas cruise season anticipated to be weaker than in 2015/2016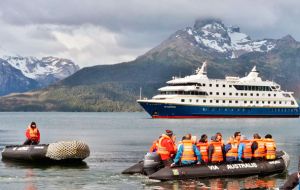 The 2016//17 cruise season for the Magallanes region in the extreme south of Chile will see a drop in the number of calls, from 121 to 86, of which 83 in Punta Arenas and 3 in Puerto Natales, according to the schedule published by Punta Arenas port authority, Austral Port Company, EPA, website.
The regional season took off last September first when the Chilean flagged Stella Australis left Punta Arenas for Ushuaia with 145 passengers.
However despite the less calls, the number of passengers and crewmembers for this season is estimated in 102.000. This compares with the last season's numbers from Chilean migration totaling 109.746, between passengers 75.535 and 34.211 crew members, although it must be said that 2015/16 represented an impressive 29% increase over 2014/15.
The first international cruise, "Insignia" is scheduled to arrive at Punta Arenas on 29 October with 1.084 passengers, while the last vessel on 19 April 2017 will be Norwegian Sun with 2.806 passengers. Zaadam again will be the most faithful cruise with ten calls carrying on average 1.900 passengers. Crown Princess will be calling for the first time, on five occasions with 4.282 passengers.
Chilean domestic cruises will see a drop in the number of passengers, 3.000 less, since Australis will be operating with an only vessel. The number of calls is down to 30 with 4.350 passengers.
Regarding Antarctica cruises from Punta Arenas, Norwegian flagged Ms Midnatsol with nine calls scheduled and a 631 passengers capacity. In Punta Arenas the vessel will be supplied and receive passenger exchanges with travelers invited to spend overnight in the city and probably even take advantage of tours in the region.