Cephalopods congress and frozen seafood exhibition opens in Vigo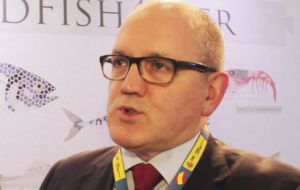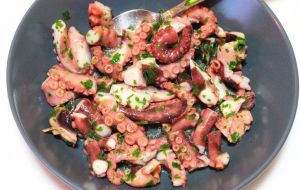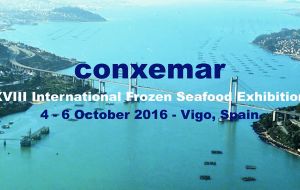 Spain's Fisheries Secretary General Andrés Hermida opened on Monday the World Congress on Cephalopods organized by FAO and the Conxemar in Vigo underlining the importance of this large and heterogeneous group of species, --octopus, cuttlefish, squid--, for the fisheries sector and as raw material for the processing industry.
Hermida said that according to FAO data, these products account for 5% of all fish, crustaceans and mollusks catches in the world, and 4% of the total volume of world trade in fish produce.
Besides highlighting the growth in demand for these products, Hermida pointed out that the quality, taste and nutritional properties of cephalopods make them essential components of the Mediterranean and Asian diets, particularly in Spain, Italy and Japan, the world's major consumers and importers.
The one/day agenda of this 5th Edition of the World Congress was focused in the context of raw material shortages. Ministers of Fisheries, FAO experts and international industry executives addressed the state of the resource, markets, supply and the use of the main Cephalopod species. Review of the international market performance and future prospects in trade were also considered. Representatives from some thirty countries attended the congress,
Hermida also underlined the support of the Fisheries Secretary General office to the Spanish industry to meet the challenges of the time. He recalled that under the Regulation of the European Maritime and Fisheries Fund (FEMP), an operational program has been approved which includes aid for innovation in capture, aquaculture and product processing, with 450 million Euros available for this purpose.
The Secretary also stressed the importance of the Strategic Plan for Innovation and Technological Development for fisheries and aquaculture for the period 2014-2020, as a reference framework of private initiatives of each fishery subsector.
Monday's cephalopod congress precedes this Tuesday's inauguration of the Conxemar Fair, the leading showcase of the fishing industry to publicize the latest advances in technology, services and equipment. The fair extends until 6 October.
The Spanish Fisheries Secretary General is participating at the show with an institutional 100 m2 stand, which will include representatives of the National Association of Manufacturers of Cod and Salted Products (ANFABASA), the National Association of Manufacturers of Canned Fish and Shellfish (ANFACO-CECOPESCA), the Business Association of Marine Aquaculture Producers of Spain (APROMAR) and the Mussel Regulating Council of Galicia.
Conxemar is the annual meeting point for the International Frozen Seafood exhibition, the biggest event dedicated to the frozen seafood sector in Spain. It is also one of the most important fair in the world for this sector, both on visitors' numbers as well as business turnover. (FIS)