Uribe demands overhaul of a "weak" deal; peace talks resume in Havana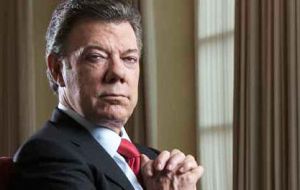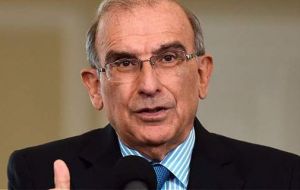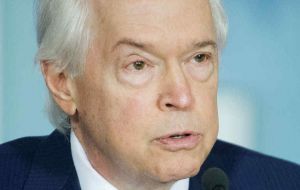 Colombian President Juan Manuel Santos said Wednesday peace with the FARC rebels is "close," but his top opponent demanded an overhaul of a "weak" deal rejected by voters in a referendum.
Seeking to salvage the peace process on which he has staked his legacy, Santos held a meeting with his predecessor and former boss, Alvaro Uribe, who has branded him a traitor for negotiating with the Revolutionary Armed Forces of Colombia (FARC).
The tension between the two men has taken center stage since Colombians unexpectedly voted "No" Sunday to the deal, which sought to end half a century of conflict with the Marxist guerrillas. Santos -- who also held talks with former president Andres Pastrana (1998-2002), another leading opponent of the deal -- tried to sound upbeat after the meetings at the presidential palace.
"Peace in Colombia is close, and we will achieve it," he said in a national address.
He vowed to work with the "No" camp to "find a path that allows us not only to conclude the peace accord with the FARC, but to strengthen it."
Uribe (2002-2010), a conservative hardliner who scored a major victory with the shock referendum result, sounded less conciliatory.
"It's better to achieve peace for all Colombians than a weak accord for half the nation's citizens," the opposition senator told journalists after the meeting.
He criticized the deal signed on September 26 for granting "total impunity" for rebel crimes and allowing guerrillas guilty of gross human rights violations to run for elected office.
The ex president said he had given Santos a list of "adjustments and initial proposals" to incorporate into a new deal. He also asked for the "understanding and support" of the international community -- much of which was taken aback by the referendum result.
Santos will face the challenge of selling any changes to the deal to the FARC.
He has already sent his chief peace negotiator, Humberto de la Calle, back to Cuba -- where the peace talks were held -- to see whether rebel leaders are open to revising the deal.
The United States, a key ally of Colombia, has also sent its special envoy for the peace process, Bernie Aronson, back to Havana, the State Department said.
Ahead of Wednesday's meetings, Santos warned that saving the peace deal was urgent.
"We are in a gray area -- a sort of limbo that is very dangerous and very risky, which can spoil the entire process," he said.
He said on Tuesday the army would end the ceasefire it has been observing with the rebels on October 31 if no solution is found -- opening the prospect of a return to war after coming within about 50,000 votes of sealing the peace
Defense Minister Luis Villegas later backed off the expiration date, saying the government was ready to extend the ceasefire "for as long as necessary."
Santos and Uribe have a complicated history. Santos served as Uribe's defense minister from 2006 to 2009, leading a major army offensive against the FARC. But he changed tack after becoming president in 2010, opening peace talks with the weakened rebels -- and infuriating his ex-boss.
Uribe cannot stand for president again -- like Santos, he has already reached the two-term limit -- but he could play kingmaker in elections in 2018.
The Colombia conflict has killed more than 260,000 people, 45,000 missing and eight million displaced over five decades, drawing in several narco-Marxist guerrilla groups, right-wing paramilitaries and drug gangs.