Guterres experience with refugees and Syria, were decisive for his UN nomination
Friday, October 7th 2016 - 11:41 UTC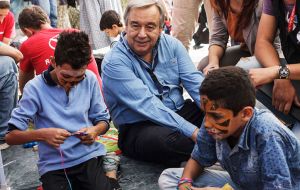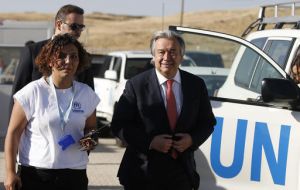 Antonio Guterres from Portugal, unanimously backed by the Security Council, will become the United Nations next secretary general, and is scheduled to assume the office, on the 38th floor of the U.N. building in New York City, on Jan. 1, 2017. His ascendance came at a time when expectations were high that the U.N. might elect either a woman or an Eastern European to the position, neither of which has happened before.
But it was Guterres, who was Portugal's prime minister from 1995 to 2002, who came out on top of a string of straw polls taken this year among General Assembly members, and there are a number of reasons he may have been the popular choice, according to a report from The Washington Post.
First and foremost Guterres has spent the past 10 years as the U.N.'s high commissioner for refugees, one of the U.N.'s most visible roles. The refugee crisis, and the civil war in Syria that is responsible for such a large portion of the world's refugees, are the U.N.'s greatest concerns right now. Guterres is intimately familiar with the contours of the crisis, having managed the U.N.'s response to it until last December.
Guterres was praised in his crisis-management role for slashing expenditures on headquarters and staff by about half, while still maintaining, if not expanding capacity to handle ever-growing waves of refugees.
Another reason is that Guterres is widely liked in his native Portugal, within the U.N., and most crucially, is seen as independent of undue influence by any of the Security Council's five veto-holding members: The United States, Britain, France, Russia and China. The Russians in particular were rumored to be holding out for an Eastern European secretary general.
But Martin Edwards, a professor of international relations at Seton Hall University, told The Washington Post on Wednesday that "Russia decided it could live with Guterres. Arguably, they thought he's going to still try to be a mediator, not come across and say whatever (U.S. Secretary of State) John Kerry says."
Guterres is fluent in English, French, Spanish and Portuguese. He is a charismatic speaker who isn't afraid to call out adversaries in his speeches, even if they are in Washington or Moscow. Given the soft-spoken demeanor of the current secretary general, Ban Ki-moon, Guterres promises to bring at least some more rhetorical firepower to the U.N. Ban hasn't been loud, literally and figuratively, and under his tenure, the role of secretary general has lacked the commanding moral authority that one might expect from the convener of the world's nations.
It is often said, however, that without any military backing, the U.N. secretary general is more secretary than general. Guterres has acknowledged the organization's lack of capacity to mediate conflict, but advocates what he calls a "diplomacy of peace." The secretary general should "act with humility to try to create the conditions for member states that are the crucial actors in any process to be able to come together and overcome their differences," he said.
Ultimately, however, it is Guterres's experience as commissioner that made him the favored candidate. With no end to the Syrian civil war in sight, and with the unending flow across the Mediterranean of thousands of Africans fleeing war, abject poverty and political persecution, the refugee crisis is here to stay.
"We can't deter people fleeing for their lives," he wrote in Time magazine last year. "They will come. The choice we have is how well we manage their arrival, and how humanely." Guterres is expected to choose a woman, and perhaps an Eastern European woman, to be his deputy. He recently said that "gender parity" is crucial to the U.N. as an institution.