Falklands/Malvinas: Temer administration reiterates support for Argentine legitimate rights
Saturday, October 8th 2016 - 10:29 UTC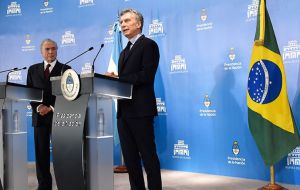 "The president of Brazil reiterated the support of his country to the legitimate rights of the Argentine Republic in the sovereignty dispute with Great Britain relative to the Malvinas, South Georgia and South Sandwich Islands and the surrounding maritime spaces", reads point 45 of the 47-point Argentina-Brazil joint statement from 3 October, following Brazilian president Michel Temer's visit to Buenos Aires.
"President (Mauricio) Macri thanked Brazil's standing support for the Argentine position in the Malvinas Islands question, reflected in Brazil's traditional position on the 1833 events and the numerous declarations adopted in regional and multilateral forae where the issue was addressed", concludes point 45 on the Malvinas Question.
Last Monday Temer spent a working day in Argentina with his peer Mauricio Macri, the Brazilian leader's first overseas country visit since he was formally confirmed to complete the four-year mandate of removed ex president Dilma Rousseff.
The occasion was not only part of the Temer administration efforts to have its legitimacy recognized in the region, (several countries argue Rousseff was removed through a congressional coup), but also to recall the thirtieth anniversary of the year when the two neighbors, once furious competitors for regional leadership agreed on integration, friendship and a political coordination mechanism acts, which has led to what is described as a "strategic partnership", supported with a strong trade exchange, dominance of Mercosur and political coincidence.
No wonder then that this last Argentina/Brazil joint statement included a chapter on the Malvinas question (45), maybe not with the numeric priority of previous statements when the Kirchner couple presidencies.
In effect the last two points (46 and 47) of the statement refer to the two presidents satisfaction with the organization and success of the recent Rio Olympics and Paralympics games, and finally an invitation to Macri for a state visit to Brazil.