Uruguayan scientists on HMS Protector en route to Antarctica for a joint research project
Monday, October 17th 2016 - 06:28 UTC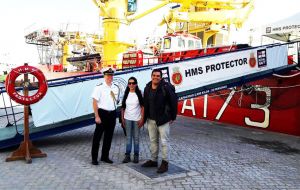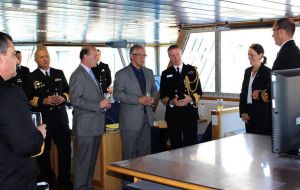 Two Uruguayan young scientists are on board Ice Patrol HMS Protector en route to the Falkland Islands and Antarctica and will be participating in a research program on human impact on the Antarctic marine environment including pollution mainly by plastic made products. Federico Weinstein and Carolina Rodríguez belong to the Faculty of Sciences and represent the resumption of long standing links between the Ice Patrol and Montevideo.
The two Uruguayan scientists will be working with five colleagues from the British Antarctic Survey, BAS.
HMS Protector arrived last week to Montevideo as part of a scientific enhancement visit which also included other neighboring countries, Chile and Brazil. While in Uruguay it held a series of conferences and presentations on the Ice Patrol operations to members of the Uruguayan Navy and Uruguay's Antarctic Institute. There was also a forum between Uruguayan and British scientists with a lively debate and exchange of experiences. In total some 150 people visited HMS Protector while in Montevideo.
Uruguay has a permanent base in Antarctica "Gral Jose Artigas", at King George Island and since 1997 a seasonal station, Ruperto Elichiribehety, which was handed over by the British, originally Trinity House, Base D.
"It was a pleasure to have so many visitors on board HMS Protector, particularly because they represented a raft of institutions and organizations", Executive Officer Commander Trefor Fox said.
Captain Angus Essenhigh RN also hosted Uruguay's Defense minister Jorge Menendez, and the head of the Uruguayan Antarctic Institute R/A Daniel Nuñez, during which he informed of plans for this Antarctic summer season.
"The opportunity offered by HMS Protector, taking two of our scientists to share research and experiences in the Antarctic Treaty Area is inestimable for the development of science in Uruguay and to have closer cooperation links", C/A Daniel Nuñez said.
HMS Protector recently participated in Punta Arenas, Chile, in the century celebrations of the rescue of Sir Ernest Shackleton Endurance's crew by the Chilean navy officer Luis Pardo on board the Chilean steam tug Yelcho. Against all odds pilot Pardo in August 1916, managed to reach Elephant Island in Antarctica and bring back all crew members of Shackleton's expedition.
The Ice Patrol also underwent maintenance and repairs at Chile's Talcahuano naval base and before reaching Montevideo HMS Protector made a visit to Brazil's Rio Grande naval base, seat of the Fifth naval district in the state of Rio Grande do Sul. HMS Protector was last time in Montevideo in 2012.