Argentina congratulates Guterres on appointment as next UN Secretary General
Tuesday, October 18th 2016 - 08:11 UTC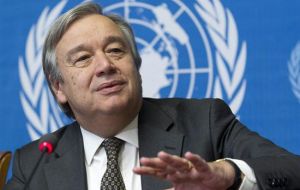 Argentina extended on Monday its congratulations to Portuguese former prime minister and ex UN High commissioner for Refugees Antonio Guterres for his appointment by the UN General Assembly as the next UN Secretary General for the 2017/2021 period.
"Argentina expects to continue working intensely with the UN particularly in those issues related to international peace and security, human rights and the sustainable development" and at the same time Argentina makes public its recognition for current Secretary General Ban Ki-moon work as head of the United Nations as it was pointed out by president Mauricio Macri last August when he visited Argentina.
The Argentine government also wishes the best of successes to Mr. Antonio Guterres as head of UN and reaffirms its commitment with the organization to address major challenges to ensure future prosperity for all the peoples of the world.
Argentine candidate to the UN post, foreign minister Susana Malcorra confirmed she will remain working for the Macri administration, and claimed she had no interest in knowing who discouraged her candidacy in the election to succeed Ban Ki-moon.
"We don't know who vetoed my candidacy. I guess it will be known at some point. There are different hypothesis," Malcorra said in a radio interview.
Her remarks came after the New York Times last Friday reported that Russia might have been the country vetoing Malcorra's candidacy to head the United Nations, reporting that "perceiving her as too aligned with the United States," Russians were known to oppose her candidacy.
Earlier last week, Argentina's ambassador in London, Renato Carlos Sersale di Cerisano, dismissed speculations regarding the United Kingdom's block to Malcorra's bid for the UN top position, suggesting that rumors of British anxiety over an Argentine leading the world organization were wide of the mark.
Malcorra received at least one "discourage" vote in the sixth straw poll conducted by the body, which confirmed Antonio Guterres as the next UNSG.
"Guterres managed to have no veto, which is the first condition for being elected. I was the only one who had a single veto, others had two or three. It was not enough because Antonio managed to persuade members of the Council and had no objection," Malcorra claimed.
The vote against Malcorra's candidacy came from one of the so-called "P5" members of the 15-member Security Council (US, China, Russia, France, UK), who have permanent seats on the influential body and the power to veto any resolution or vote drafted by the Council.