Argentina lowers interest rates for businesses as inflation tends to subside
Tuesday, October 18th 2016 - 10:31 UTC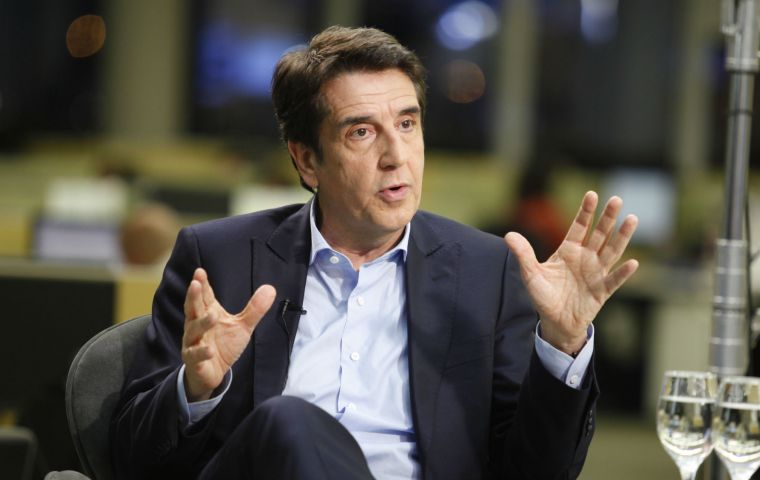 Argentina's main state-run bank said it lowered its headline interest rates for loans to businesses on Monday amid expectations that inflation will begin to slow in Latin America's third-largest economy, a move that will help put credit back within firms' reach. Banco Nacion, the country's largest financial institution and which also acts as a development bank, set its annual nominal reference rate for business loans at 27%, down from 32%.
The bank said it has also set aside US$330 million for loans to small- and medium-sized businesses at a discounted rate of 15%.
"We've made this decision with the conviction that gradually we will have a substantial improvement in the general economy, with inflation trending lower," said Carlos Melconian, president of Banco Nacion.
Inflation in Argentina is expected at 39.6% for full-year 2016, according to a central bank poll of analysts. That has resulted in high interest rates on loans, making credit unaffordable for many companies. But that same poll showed a median forecast of 20% inflation in 2017, when the economy, currently mired in recession, is expected to return to growth.
The 10-month-old administration of President Mauricio Macri is applying orthodox economic policies following eight years of free-spending populism under the previous leader, Cristina Fernandez. Macri has eliminated currency controls and grains export taxes, lowered utility subsidies and settled a long-standing lawsuit with bond-holders that had kept the country in default. But the expected surge in investment has been slower to arrive than thought.
In related news the Argentine Central bank reported on Monday that reserves climbed US$ 3.792 million, the highest in three years and almost US$ 40bn. The jump follows the sale last week of 150.000 million Argentine Pesos in bonds purchasable in dollars, with an interest ranging 18% annually.
The last time the central bank international reserves were that high was in May 2013, but since then slipped continually despite a raft of measures to contain erosion.