Eccentricity: Falklands' budget surpluses under-forecasting triggers lively debate
Wednesday, October 19th 2016 - 22:09 UTC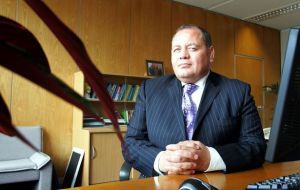 While in the rest of the world, budget shortfalls and downplayed soaring deficits are the norm, a lively discussion ensued at this week's Falkland Islands Standing Finance Committee when MLA Michael Poole suggested the forecasting process needed revising when most years a deficit was forecast, but then resulted in a surplus.
MLA Poole said there might be too much pessimism used when forecasting, and this was holding back spending on important projects.
Acting Financial Secretary, Lydia Morrison explained that most of the revenue comes from volatile industries, so predicting was very difficult, especially within the hydrocarbon industry, which had not been active long enough to predict revenue trends.
Chief Executive Barry Rowland said he would examine the budget process in detail and MLA Poole's points would be taken into consideration then.
MLAs Roger Edwards and Mike Summers both insisted that capital projects were not delayed because of the budget forecasting.
Ms. Morrison, presented the Provisional Outturn report for 2015/16 to give a view on how FIG finances were doing compared to forecasts.
For the medium term financial plan, there was a surplus of £1.556m compared to an estimated deficit of £2,644m. For the longer term financial plan, which includes oil and gas monies, a deficit of £728,000 had been forecast, and this now looks to be a surplus of just over £8m. (The figures are not finalized).
The poor Illex season had been offset by better than expected revenue from FIG investments. There had also been higher than expected taxation receipts from operators in the oil and gas industry relating to the extended drilling campaign last year.
Within the Natural Resources budget, there was unanticipated revenue of £205,000 in relation to the sale of fish seized as a result of a court ruling during the year.
The Health and Social Services budget was boosted by £1.7m from MST payments by oil and companies and staff.
In the Public Works Directorate, there were under spends due to staff vacancies, falling fuel and electricity prices and lower than expected production levels (mainly at the quarry). (Penguin News)