Mini cabinet reshuffle in Chile ahead of Sunday's municipal elections
Thursday, October 20th 2016 - 21:23 UTC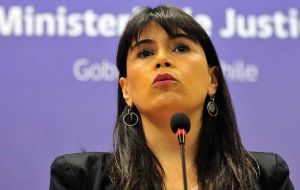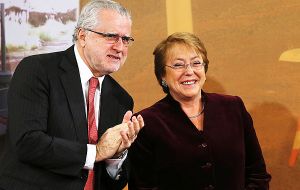 Chilean President Michelle Bachelet announced a slight reshuffling of her Cabinet on Wednesday, a few days ahead of local elections in which her coalition is expected to suffer losses. Center-left Bachelet replaced the ministers in charge of justice, energy and national assets, she said in a brief speech at the presidential palace in Santiago.
Voters are expected to shift rightward in the local elections this weekend, after a series of high-profile corruption scandals and a reform drive that has failed to please Chileans on both the left and right.
The former justice minister, Javiera Blanco, had been blamed by lawmakers for logistical problems that have led to inaccurate addresses of around 500,000 Chileans in the electoral register.
The energy minister replaced on Wednesday, Maximo Pacheco, was one of the more popular members of Bachelet's Cabinet. He told journalists he had left in order to join the campaign team of Ricardo Lagos, an ex-president who is gearing up to run for the presidency once again in 2017.
The new energy minister will be Andres Rebolledo, previously in charge of the government's trade department.
Ex president Sebastian Piñera criticized the reshuffle saying it does nothing to help the people's problems which are crime, poor healthcare services, collapsed education and a stumbling economy.
The ousting of the three ministers reflect there is "a divorce between the government's concerns and the needs of the people, no common sense Chilean understands the reshuffle", said the conservative leader and presidential hopeful who leads in public opinion polls.
"We expected a greater overhaul, there are too many serious problems and they are not limited to the ministries, they are engrained in La Moneda (presidential palace), and there all seems to be fine, with their back turned on the people" concluded Piñera.