Falklands aims to double the number of nights spent by land-bases tourists by 2023
Friday, October 21st 2016 - 18:00 UTC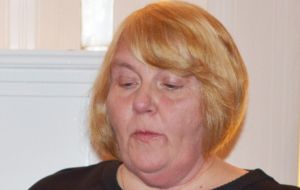 Falkland Islands Tourist Board Interim CEO, Steph Middleton gave a short presentation on the growth of visitor numbers in recent years at this week's public meeting. She said there were 1,461 land-based tourists last year, spending about £2m or £120 per person per night - the best year since 2007-8.
Cruise-ship visitors totaled 56,476, spending about £57 per person which was the third consecutive year of growth. About 30% of passengers were from the USA. There were 5,778 'visits' by domestic tourists, spending about £350,000.
Kevin Millington, from Acorn Consutants, explained that the aim of the Tourism Development Strategy was to double the number of nights spent here by land-based tourists by 2023. Also, to encourage those visitors to visit at the shoulder season rather than in the peak, and so lengthen the season.
For cruise passengers, the Tourist Board aim for a 50% increase in passengers by 2023, and to provide them with more experiences in Camp as well as enhancing their experience in Stanley.
Mr Millington explained that this would be achieved by enhancing the digital marketing strategy to connect with many more potential visitors; encouraging more cruise ships to visit; and also encouraging those arriving by ship to spend longer ashore.
There were plans to improve the infrastructure, including investing in more beds; better toilets and café at Gypsy Cove; surfacing the car park at the Jetty Visitor Centre and providing a formal training course for more tour guides.
When the meeting was opened up to questions from the audience, a number of people asked for an update on the Public Jetty, given the aim of increasing visiting ships.
MLA Michael Poole informed the meeting that Phase 1 should be finished by the end of November. A paper for funding of Phase 2 will go to the Standing Finance Committee shortly. MLA Phyl Rendell asked if anyone had good ideas for new activities or tours.
Among the suggestions were tour themes such as Darwin's in the Falklands; Geology Tours (eg stone runs), more publicity for walking trails, Falklands' culinary experiences, Geocaching tours, and horse trails or horse and trap rides along Ross Road. (Penguin News).-