Falklands' military exercises trigger protests in Buenos Aires against Macri and UK embassy
Friday, October 21st 2016 - 07:29 UTC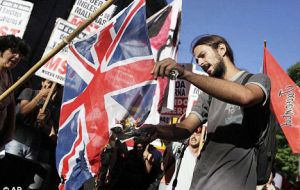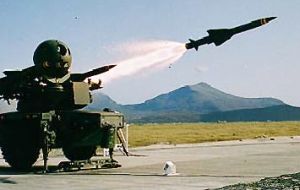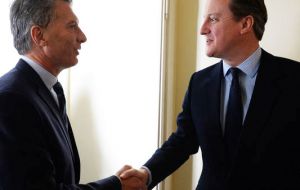 Extreme left wing organizations protested on Thursday outside Britain's embassy in Buenos Aires against UK military exercises which are being carried out in the disputed Falkland Islands. The groups also slammed the Argentine government's pursuit of closer ties with the United Kingdom.
The protesters said the war games amounted to "a NATO exercise on occupied territory, which is not only an affront to Argentine sovereignty but an act of aggression against all" of Latin America, Facundo Escobar, leader of Quebracho - an umbrella group of organizations basically rabidly nationalistic and Marxist. Argentina claims sovereignty over the South Atlantic Islands which are a British Overseas Territory.
Last Friday, Argentina's government complained to the U.N. secretary general's office about the exercises, including the launching of Rapier missiles, which began this week and are to last until Oct. 28. A protest note was also handed to British ambassador Mark Kent in Buenos Aires.
Although Argentina received no pre-warning, Britain said that the exercises were "routine" operations carried out approximately twice a year, and have been going on for the last two decades.
During Thursday's protest in Buenos Aires' Recoleta neighborhood, a group of around 100 people burned two British flags and harshly criticized Argentine President Mauricio Macri's efforts to strengthen ties with Prime Minister Theresa May's administration.
Since Macri took office in December 2015, the two countries have shown a desire to improve relations that had deteriorated under the populist administrations of Nestor Kirchner, (2003 to 2007), and his wife Cristina Fernandez, (2007 to 2015).
During a visit to Buenos Aires in September by British Minister of State for Foreign and Commonwealth Affairs Alan Duncan, the two countries agreed on a broad joint statement to strengthen bilateral ties and engage in dialogue to improve cooperation. A chapter on the South Atlantic and the Falklands committing both side to work in matters of mutual interest triggered strong reactions from the Argentine political arch.
Buenos Aires has long demanded that Britain comply with a 1965 United Nations resolution describing London's control of the Falklands - which dates from 1833 - as colonialism and calling on the parties to resolve the dispute through dialogue.
London has refused to discuss the question of sovereignty unless the Falkland Islanders so wish and decide. Meantime the right of the Falklands to self determination and to develop its economy must prevail, as it was confirmed in the 2013 referendum when an overwhelming majority supported remaining as a British Overseas Territory.