US receives Monday OAS Electoral observation mission ahead of 8 November vote
Saturday, October 22nd 2016 - 09:33 UTC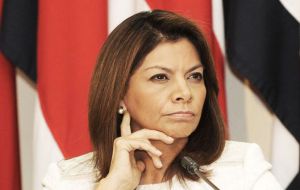 Next Monday, October 24th, the Chief of the Organization of American States Electoral Observation Mission (OAS/EOM) to the United States, former Costa Rican President Laura Chinchilla, will begin a preliminary visit to the United States during which she will hold meetings with key authorities and stakeholders of the electoral process in the states of Georgia and Pennsylvania, as well as the District of Columbia.
The OAS Mission will be comprised of 40 international experts who will observe specific aspects of the electoral process, including electoral organization and technology, campaign financing, and political participation, among others.
In accordance with international electoral observation principles, the functions of the observers are different from those of monitors and poll watchers. In effect the OAS/EOM will observe, collect information for an ex-post report, highlight best practices and offer recommendations for improvements.
On Election Day, OAS observers will be deployed to the states of California, Colorado, Kansas, Iowa, Maryland, Minnesota, Montana, Nebraska, New York, Rhode Island and Wisconsin, as well as the District of Columbia.
The OAS was invited to deploy this Electoral Observation Mission at the request of the US State Department on a letter dated June 30th, 2016 and the invitation was accepted by Secretary General Almagro on July 11th.