Argentine private aircraft makes a direct Rio Gallegos flight to the Falklands for a four-day visit
Wednesday, October 26th 2016 - 10:35 UTC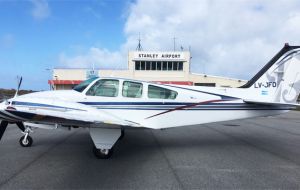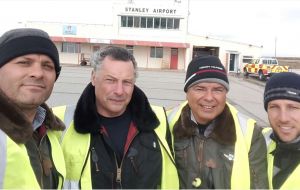 Four Argentines who flew straight across from Rio Gallegos to Stanley airport in a private Beechcraft 55 and spent four days in the Falkland Islands, had only words of praise for the way they were considered and treated during the two months previous paperwork and when they finally reached their goal of visiting battle fields, cemeteries to honor the 1982 combatants who never returned.
The four are civilian pilots are normally stationed at the San Fernando airport in the outskirts of Buenos Aires, according to a report in La Nacion.
"We were very well received, in no moment did they try to impede the trip and we were able to visit all battle fields with no inconvenience. We walked for hours on the peaty fields, the actual places where battles were fought and above all we paid tribute at the Argentine memorial. We also visited the British Cemetery" said Pablo Enriquez, 62 and owner of the aircraft.
"It was a dream come true: to fly with my aircraft, with my friends to pay tribute to those fallen in Malvinas, it was a pending dream of 35 years. We wanted to honor all those lads", added Enriquez next to his friends and pilots, Raul Gallo, 56, Ignacio Colado, 37 and Maximiliano Actis Caporalle, 44.
While in the Islands, Gallo wrote in his Facebook: "today we are heading to both cemeteries, Argentine and English; both caused the same deep feeling of sadness, of emptiness, of chagrin, but they are both very neat, and respected. There are 640 sentinels in the islands and not remembering them, is like killing them again".
However even with peace in their souls and grateful for such an occasion, when it was time to leave a big surprise was waiting for the four pilots: Falklands weather and 60 knots wind.
"It took us a full hour to cross the Islands on our return trip and at a certain point we had to choose whether to continue or abort. We decided to continue despite the front wind which forced us to fly at 3.000 ft altitude, which did not give us much latitude. We flew real low and across the open sea. During those three and a half hours I had time to a review of my life", confessed Enriquez.
But on arrival "we were greeted by Rio Gallegos air-club friends who provided us the logistic support for the crossing and the moral stamina for the trip: it was a great experience".
Finally the La Nacion piece points out that on leaving and on arrival to Rio Gallegos, there was no migration or customs checks since "they were always in Argentine territory".