Falklands celebrating 30 years of the Fishery that transformed the Islands
Friday, October 28th 2016 - 14:28 UTC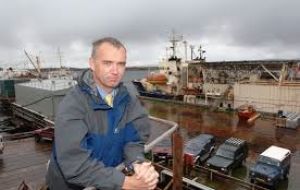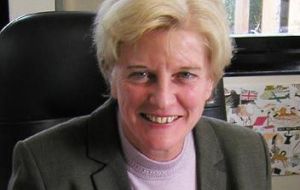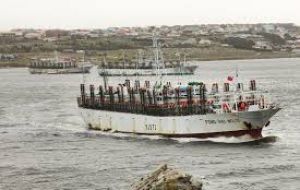 The Falklands Islands are recalling a milestone decision for the development and transformation of the economy of the country. On October 29, 1986 a Proclamation declaring the Interim Falklands Conservation and Management Zone was signed by Governor Gordon Jewkes. Director of Natural Resources, John Barton pointed out at a presentation on Wednesday evening to mark 30 years of Falkland Fisheries.
Over the 30 years, the fishing industry has contributed hugely to the economy of the Falkland Islands with £564 million of Licence Revenue collected by the Fisheries Department since 1987. £305 million of this was due to Illex alone, with Loligo contributing another £152 million.
MLA Mike Summers said at the Legislative Assembly that the Falklands had about a quarter of that total revenue in its reserves. So, as a country, a substantial proportion of this revenue has been saved for the future.
The fishing industry accounts for 40% of the Falkland's Gross Domestic Product, which, said Mr Barton was "considerable progress in 30 years".
At the last Legislative Assembly session, MLA Phyl Rendell said this was, a "fantastic moment for the Fishery.
"The proclamation gave control of waters around the Falklands; we were able then to manage fish stocks and prevent the uncontrolled fishing that went on in the 1970s and into the 80s, she said, adding, "When you look around the town nearly everything has been built on what we call fish or squid money."
Mr Barton speculated about how the little-known Sino-Argentine Squid War of 1986 involved the sinking of a squid fishing vessel, and may have speeded up the introduction of the FICZ (Conservation Zone).
Barton highlighted the co-operation between the Falklands and Argentina over conservation of fish stocks around the Patagonian Shelf. The co-operation lasted about 15 years, but the Argentines suspended their engagement with the process from around 2005.
The total tonnage of Illex caught over the years is 3.7 million, and of Loligo 1.6 million; this would fill about 57,000 shipping containers.
He estimated that the annual fishing catch was worth over £225 million to the fishing companies. More events are planned in 2017, to mark the anniversary of the start of licenced fishing. (Penguin News).