Chief Kirchnerite Senator calls for an end on naivety regarding immigration
Thursday, November 3rd 2016 - 07:43 UTC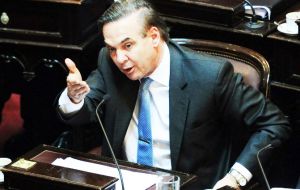 Miguel Angel Pichetto, chairman of the Victory Front (FPV) in the Upper House, said Wednesday that Argentina has always worked "as a social adjustment tool for crime in Bolivia and Peru.""How much misery can Argentina put up with by receiving poor immigrants?" Pichetto said in a TV interview.
He added that "Argentina has to control the immigration [flow], which is very complex and for which there is no reciprocity."
"There are 35,000 Colombians studying at [tuition free] Argentine universities, while in Colombia there are a thousand Argentines who are unable to study because college is to be paid for." A recent TV report in mid October revealed that Argentina spends $ 360 million a year in favour of foreign college students.
He also quoted a public hospital doctor as telling him there were no appointments available for the entire month of November because of Paraguayans travelling into Buenos Aires to get cost-free surgery.
"We have to stop being silly," PIchetto said. The problem is that we function as a social adjustment tool for crime in Bolivia and Peru," said Pichetto. "Peru solved their problem of security and transferred it all to the trafficking scheme: the main shantytowns in Argentina are taken over by Peruvians. We have no control over immigration."
"One of Argentina's problems is the egalitarian culture, in the form of what is politically correct as depicted by the media," he said.
On the other side of the story, a 38-year-old Argentine national who was working at a local restaurant in the Sao Paulo area, was murdered on Wednesday by a Brazilian citizen because he was "stealing our jobs".