Identification of Argentine soldiers' remains in Falklands: Geneva meeting in December
Thursday, November 3rd 2016 - 08:21 UTC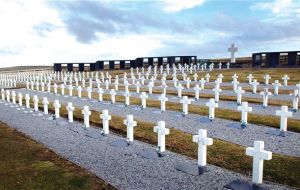 Argentine and British diplomats will be meeting next 10 December in Geneva with the Red Cross to advance in the identification of the remains of 123 Argentine combatants buried at Darwin cemetery in the Falkland islands since 1982.
The news was published by Martin Dinatale in La Nacion quoting sources from the Argentine foreign ministry, which said the proposal had come from London.
Diplomats from both countries and Red Cross experts will work on a document with the details of the identification process and procedure protocol to be addressed by the forensic team. The protocol will establish work conditions for the experts and the time for field tasks
On the Argentine side authorities will continue with the idea of completing a census of the alleged families from Argentine soldiers buried at Darwin. So far an estimated 81 families of the 123 unknown soldiers at the Argentine memorial are believed to have been counted, but another twenty apparently have no relatives and their remains have never been claimed.
Dinatale mentions that there is a consensus among the Falklands, London and Buenos Aires that the best time for the forensic identification are the coming summer austral months when climate conditions are most favorable, with no snow or other adversities.
The Argentine side will be represented by diplomats and members of the Human Rights and Social Development departments.
The decision to advance in the identification and DNA process is included in the recent joint statement agreed two months ago by UK and Argentina when the visit of Sir Alan Duncan and includes the possibility of advancing in trade agreements and cooperation in fisheries and hydrocarbons between Argentina and the Falklands.