Temer austerity program inspired in Thatcher´s program to contain expenditure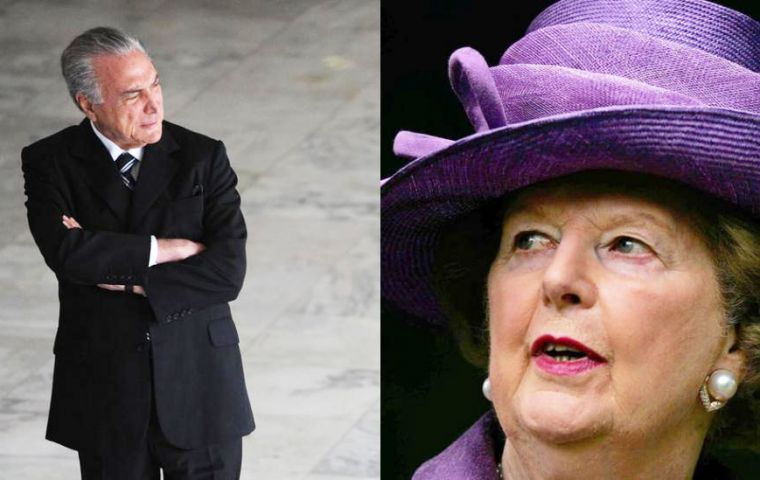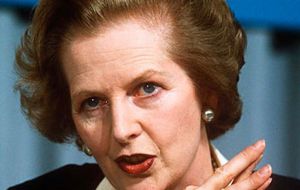 Brazilian president Michel Temer said that the economic adjustment implemented by Brazil is inspired in the program of former prime minister Margaret Thatcher, who led the UK from 1979 to 1990. "As Thatcher use to say and we are following in Brazil, containing government expenditure is necessary because we are only going to spend collected revenue".
Temer is pushing through congress a constitutional amendment to freeze public expenditure, below inflation, for twenty years which has triggered a strong reaction from students at high school and university levels.
The Brazilian president said he had watched a video in which Thatcher defended cutting public expenditure, opening the financial sector, sponsoring privatizations and making labor rules more flexible as part of a plan to combat recession at the end of the seventies.
"I saw the video of when she took office in which she said we can´t think government can get involved in generous projects and at the same time believe government money is different from private money. Government money comes out of private money, of the taxes from all taxpayers", recalled Temer.
"Margaret Thatcher said something as simple as that the State was like a family, you can´t spend more than your income. It was a very interesting video since many years have gone by, but it is applicable to the situation of several countries", underlined the Brazilian leader.
Since taking office last May following the removal of Dilma Rousseff, Temer reviewed the country´s accounts, elevated the estimated budget deficit for 2016 and drafted the constitutional amendment to reduce the size of government.
The latest Central bank figures show that in the first nine months of the year the budget primary deficit was 26.7bn dollars, a record and ten times higher than the nine months of 2015. Brazil´s gross public debt in September was equivalent to 70.7% of GDP.
This year Brazil will experience a third consecutive fiscal deficit following those in 2014 (US$ 9.8bn), and in 2015, (US$ 33.6bn). In 2016, in the first nine months of the year the fiscal deficit was US$ 119bn equivalent to 9.42% of GDP.