Uruguayan pulp mill passes pollution tests - Gualeguaychú not quite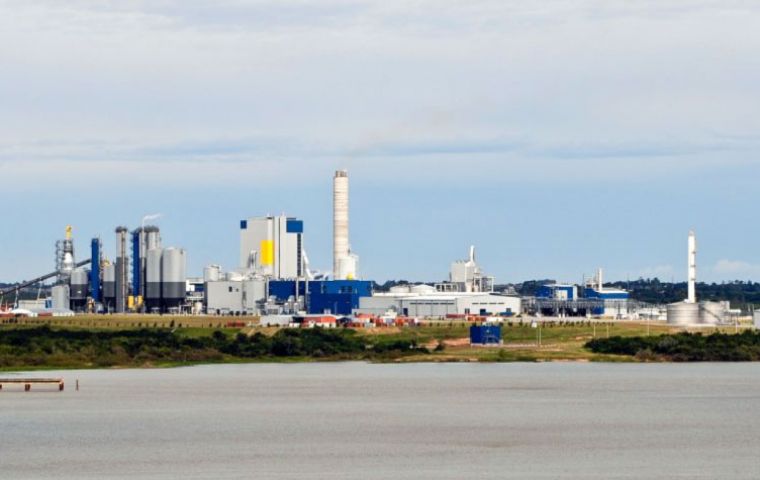 An Argentine-Uruguayan commission took 50 samples of effluent from the pulp mill off Fray Bentos and as many in the Gualeguaychú mouth of the river in Entre Rios. Botnia passes test. The reports from the samples collected on the Argetine side recorded more polluting than those found off Fray Bentos. The plant's formal name is "Orion" but is widely known for its original Finnish name Botnia.
Monitoring was the result of the judgment of the Court of The Hague in 2010 that gave way to the dispute between the two countries for the installation of the pulp mill and led to the end of Gualeguaychú environmentalists blocking the binational bridge. The results that became known Wednesday are from to 50 sampling campaigns between June 2011 and July 2015.
According to the report, there was no departure from the Uruguayan environmental regulations and no contamination. It was noted that in each case the regulations of each country apply and those are more stringent in the case of Uruguay. Still, the contrast between was appalling.
For example, the presence of iron at levels above those permitted by Argentine regulations was detected in the 50 samples. Aluminium could also be traced in quantities above safety standards and the same happened with beryllium (only twice not found) and ammonia (detected in 36 of the 50 shots).
On the Uruguayan side, the report notes that in the plant effluents and industrial process discharges rainwater pools were analyzed. On the parameters of a first series of substances, including dioxins and furans they are included there were no deviations from the rules, although in January 2014 the presence of oils and fats was detected in the effluent of industrial process above the set value.
It was also found that temperatures of effluent exceeded in February and April 2015 37 degrees. The company sources indicated that this issue had been met with the installation of a new cooling system order in 2013 to enable increased production. But the report cites cases in 2015.
With regard to phosphorus, in August 2011, in March and December 2014, the daily load measured was above the parameter. However, it was indicated that the average results for those months were within the required limits.
Regarding the Gualeguaychú River, there were 50 samples. The report indicates that several measurements exceeded the values of aluminum, ammonium, beryllium, iron and nickel. In the case of the Uruguay River there were 32 samples between September 2012 and April 2015. The presence of iron, oil and grease, copper, chromium and nickel was detected in different degrees.