UK pledges additional funds for the Colombian peace process and demining
Friday, November 4th 2016 - 10:28 UTC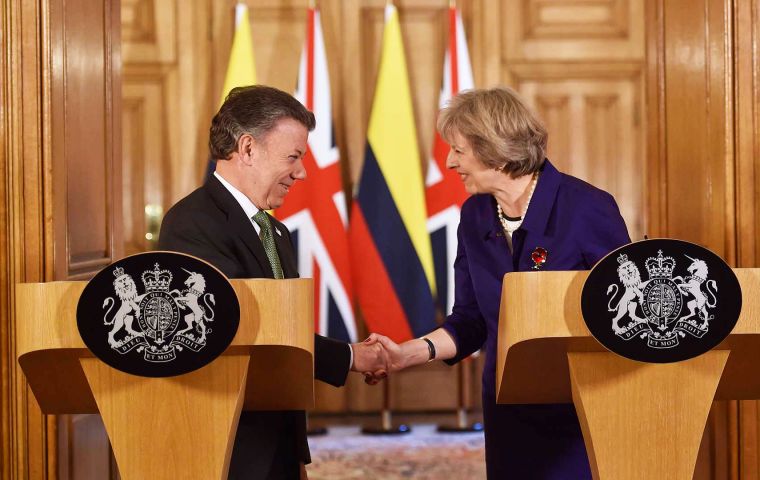 The UK will increase its contribution to prosperity programs in Colombia by up to £25 million, supporting economic development and opening up investment and export opportunities worth in the region of £6 billion to the UK economy.
In addition, a further £7.5 million from the government's Conflict, Security and Stability Fund (CSSF) will be allocated to support the Colombian peace process, with £2.5 million dedicated specifically to support demining through the United Nations Trust Fund. Demining is crucial for releasing land into productive use and to clear up the remains of conflict.
Prime Minister Theresa May announced the increased funding following her meeting with Colombian President Juan Manuel Santos at 10 Downing Street. President Santos, winner of the 2016 Nobel Peace Prize, fulfilled this week an official State Visit to the UK, the first ever by a Colombian President.
The prosperity funding will contribute to economic growth in Colombia, and benefit the UK with around £6 billion of opportunities for British businesses to support infrastructure projects in Colombia's cities, improve the regulation and rehabilitation of Colombia's railways, and increase agricultural exports and insurance.
The Foreign Secretary hosted the Colombian Foreign Minister Maria Angela Holguin at the Foreign and Commonwealth Office to discuss the new commitment as well as the UK's enduring relationship with Colombia.
Foreign Secretary Boris Johnson said that the UK has long been a supporter of Colombia and President Santos's efforts to bring peace to his country and these additional funds will unlock economic opportunities in the parts of Colombia that have been most affected by poverty and conflict, which in turn will benefit the UK through increased business opportunities.
"A sustainable peace process is the basis of Colombia's future prosperity and stability. A strong, stable and prosperous Colombia will benefit the UK and the world", said Foreign Secretary Johnson.
The Foreign Secretary also joined President Santos for a private tour of the Churchill War Rooms on King Charles Street, which included visiting the Cabinet Room and the Map Room.
More than 3 million people in some of Colombia's poorest regions are expected to benefit from the new prosperity funding. The prosperity programming aims to tackle the underlying barriers to economic growth by developing better cities, increasing agricultural competitiveness, combating corruption and improving infrastructure to link urban and rural areas.
Colombia is one of the most mine-affected countries in the world. There have been 11,479 victims since 1990 including 74 in 2016 alone. The Government of Colombia has made demining one of its top priorities, launching the Global Demining Initiative in April 2016. It wants to rid the country of the threat by 2021