Argentina's 2017 inflation expected to reach 19.7%, reveals Central bank poll
Saturday, November 5th 2016 - 10:00 UTC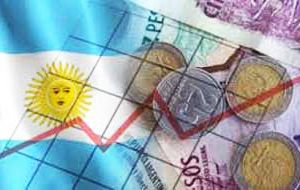 Argentina's consumer prices will rise by 19.7% in 2017, according to a central bank poll of 56 economists published this week, a slight drop from median expectations in last month's survey but still higher than the central bank's target.
Latin America's third-largest economy will shrink by 2% in 2016, according to the median estimate in the poll, compared with expectations for a 1.7% annual contraction in the recession-stricken economy last month.
The median annual inflation expectation for 2016 fell to 39.4% in the survey from 39.6% in the previous poll. Last month, the median expectation for 2017 inflation was 20%.
The central bank is targeting inflation between 12 and 17% next year, and has kept interest rates unchanged for the past six weeks, after previously lowering them for eight straight weeks.
The economists surveyed expect 3.2% growth next year, unchanged from the median forecast in the previous month and lower than the government's expectation for 3.5% growth.