Opposition leaders Boudou, Esteche and D'Elia head march onto Plaza de Mayo
Saturday, November 5th 2016 - 03:50 UTC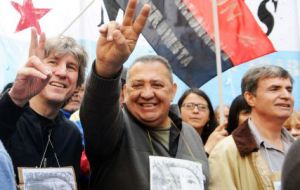 Former Argentine Vicepresident Amado Boudou and other Kirchnerite leaders took centre stage on Friday as unions marched onto Plaza de Mayo in Buenos Aires to demand the resumption of collective bargaining talks and a year-end bonus, "If they do not listen, there will be a strike"
The Kirchnerites were joined by Autonomous CTA leader by Pablo Micheli and CTA Workers secretary-general Hugo Yasky. They all agreed to call for a national strike to demand the reopening of collective bargaining talks and year-end bonus as they expressed their disgust towards the social and economic policies carrried by the Mauricio Macri administration.
Others present at the rally were former Buenos Aires deputy governor Gabriel Mariotto and the former head of the Afsca broadcasting authority Martin Sabatella.
Under the motto "no hunger, no layoffs," the two labour groupings concurred on Avenida 9 de Julio and marched onwards to Plaza de Mayo. The strike and protest is "the continuity of the Federal March and expresses the rejection to layoffs, suspensions, deterioration of real wages, adjustment, cutting of the national budget and the fare increases known as tarifazo by the Macri government.
"The Government needs to cease to apply neoliberal right-wing policies which have already led Argentina to failure and under which workers and pensioners were always the most vulnerable sectors that have suffered the consequences," said Micheli.
Meanwhile, Hugo Yasky pointed at the government harshly. "They want me to pick up 12 years of conquests by the people," he said in an effort to defend the policies carried out in the Kirchner years (2003-2015). "They hide the Argentina without jobs," he said.
Both Micheli as Yasky were strongly critical of the CGT union, which unilaterally agreed with the Government on a year-end bonus that left numerous workers beyond the scope of the deal. "They had no class solidarity," Micheli said. Yasky was even harsher: "I am ashamed to feel that the CGT does not represent us."
"To leave out the two CTAs is a government strategy," Yasky said. "We must defend the unity of the popular field."
Both leaders were combative with the government and said they will continue to take action. "This march shows that unemployment is alive," Micheli said in a speech where he admitted that both CTA are working to re-join, and which accused the government of being "same as above". "We want unity to defeat neoliberalism," he said.