Why Falklands' conservation and management zone is so productive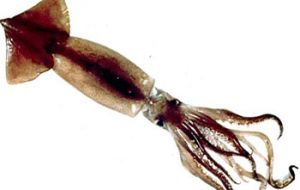 Three decades ago, on 29 October 1986 a Proclamation declaring the Interim Falklands Conservation and Management Zone was signed by then Governor Jewkes, which helped to transform the Islands economy. The anniversary has been marked by several events, and this week was the turn for a scientific approach on how and why the waters around the Falklands are so rich in marine life.
At a talk Dr Sasha Arkhipkin, Senior Fishery Scientist, gave an entertaining overview of the scientific developments of managing the Fisheries. He told the audience that the Falklands have cold water, which is good for fish, despite being the same distance from the Equator as London.
The South-west Atlantic has the warm Brazil current flowing south along the Patagonian coast, and near the Falklands it meets the cold north-flowing Falklands current. He explained that where the currents meet is very productive for fishing as the waters are extremely nutritious for fish and squid.
Around the Falklands are the native Loligo squid, and there is a seasonal migration through the Falklands Fishery of Illex squid from their spawning grounds off the South American coast, north to Brazil.
The Loligo squid move inshore for spawning and then move to the east of the Falklands as they mature In response to a question from the audience about how climate change might affect the Fisheries, Sasha explained that the water is getting colder as ice melts in Antarctica.
This can prevent the Illex migrating on its traditional route as it happened earlier this year. However, unusual warming of waters in autumn 2015 caused Illex to travel on a southern route around the Falkland Islands, where it extensively fed on native Loligo squid.
The Patagonian Toothfish is another important fish in Falklands'waters.
Since 2005, a Marine Protected Area (MPA) has been enforced between July 1 and August 31, each year, to protect the toothfish while spawning.
Dr Arkhipkin explained the work done by the many observers, data analysts, stock assessment scientists, and researchers over three decades had contributed enormously to the well-managed and sustainable Fisheries of today. This was recognised by the Marine Stewardship Council certification of Falkland toothfish fishery in 2014. (Penguin News)