UK wins F-35s global repair and maintenance hub in North Wales
Wednesday, November 9th 2016 - 12:58 UTC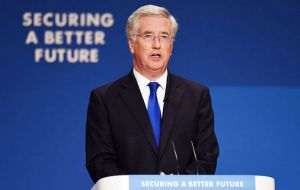 The British Ministry of Defense (MOD) has announced that the UK has been chosen by the F-35 Program Office to be a global repair hub providing maintenance, repair, overhaul and upgrade services for F-35 avionic and aircraft components. Over the lifetime of the program, hundreds of European-based F-35 aircraft will be serviced and maintained in North Wales.
The work is expected to generate hundreds of millions of pounds of revenue for the UK defense industry, with the potential to unlock more than £2bn of future F-35 support revenue over the lifetime of the program. This should help sustain thousands of high tech jobs and skills. The work will involve maintenance and repair of systems for the F-35 aircraft including electronic and electrical components, fuel, mechanical and hydraulic systems, and ejection seats.
Defense Secretary Michael Fallon said: "This establishes Britain as a hub for all European F35s and is hugely positive news for our high-tech and innovative defense industry. It is an endorsement of the skills and capabilities the UK offers; will help create hundreds of high-end jobs, safeguard thousands more and be a substantial boost to UK exports.
"Building on the strong foundations of Britain's pre-eminent and enduring defense partnership with the US, this decision supports British jobs and helps keep Britain safer and more secure."
The winning UK solution will be based on an innovative partnership enterprise between Defense Electronics & Components Agency (DECA), BAE Systems and Northrop Grumman, supported by key F-35 Original Equipment Manufacturers. The work will be centered at the UK Government-owned, Defense Electronics & Components Agency (DECA), based at MOD Sealand, in North East Wales.
Alun Cairns, Secretary of State for Wales, said: "Today's announcement makes Wales an essential component repair hub for supporting the F-35 aircraft and confirms our status as a leader in aviation technology.
"I'm delighted that the expertise that exists in Wales, along with a skilled workforce, has been recognized by the award of this major contract. It will lead to the investment of millions of pounds into the economy of North Wales.
"The North Wales maintenance site already supports around 400 jobs with thousands more in the wider supply chain - these will be sustained and grown over the coming years as a result of today's news. MOD Sealand is a perfect location for maintenance work on this scale and I'm confident we will see further investment locally for the aerospace industry in Wales."
The new global avionic and aircraft component repair service is expected to be operational from early 2018.
Tony Douglas, Chief Executive Officer of the MOD's Defence Equipment and Support organisation said that the UK's winning proposal, which will provide best value for money for the F-35 enterprise, is testament to the strength of both UK Government and our UK industry knowledge and expertise.
"There are currently around 400 jobs at DECA Sealand and many thousands more in the UK F-35 supply chain, and this opportunity will allow us to sustain and grow these valuable UK jobs, helping to secure the future of the UK aerospace industry."
Additionally it was revealed that MOD has recently ordered a further six F-35B aircraft as part of Low Rate Initial Production (LRIP) 9 contract between the JPO and Lockheed Martin. This brings the current UK total of F-35B aircraft to 14; five delivered and nine in production.