Brazil lowers fuel prices: diesel down 10.4% and gasoline, 3.1% at the refinery
Thursday, November 10th 2016 - 11:35 UTC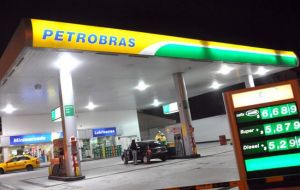 In line with the pricing policy announced by Petrobras on October 14, 2016, the company's markets and pricing executive committee has decided to reduce the prices of diesel and gasoline sold at its refineries by 10.4% and 3.1%, respectively.The combination of a 12.1% fall in the international prices of oil and oil products between October 14 and now, and the reduction in the company's domestic market share has impacted the usage level of Petrobras' assets, especially its refineries, its inventory levels and also its flows of imports and exports
. These circumstances convinced Petrobras to further change its fuel prices, according to the company.
The methodology defined by Petrobras provides for adjustments to the prices charged at its refineries at least once a month, following analysis by the committee, made up of the company's CEO, refining and natural gas director, and finance and investor relations director.
The aim is to enable Petrobras to implement a competitive pricing policy that reflects movements in the international oil market in shorter periods.
As Brazilian law guarantees pricing freedom in the fuel market, the changes made by Petrobras at its refineries may or may not be reflected in the end prices paid by consumers. This will depend on decisions made by other parts of the oil chain, especially distributors and gas stations. If the adjustments made on Wednesday are fully passed on, diesel prices may fall 6.6% or around R$0.20 per liter, while gasoline prices may decline 1.3% or R$0.05 per liter.