Temer defends austerity and claims the program is fostering confidence among investors
Thursday, November 10th 2016 - 11:30 UTC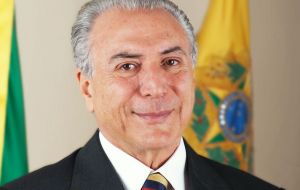 Brazilian President Michel Temer reiterated the tough-minded adjustment he has proposed to balance the government's accounts and his support for the private sector's role in the economy, adding that the program is already fostering "confidence" among investors.
"The climate of confidence is growing and it is having a positive impact" on the economy, Temer said at a seminar on his government's economic policies sponsored by the National Industrial Confederation, or CNI, and the daily Valor Economico.
Before an audience mainly comprised of business people and bankers, Temer strongly defended one of his most controversial proposals seeking - over the coming two decades - to restrict any annual increases in public expenditures to the inflation rate in the previous year.
"When we took office, we received a country with growing debt, and we determined that the level of spending ... during recent years was unsustainable," Temer said in a reference to the administration of former President Dilma Rousseff, who was deposed by Congress last August.
According to Temer, spending increases under Rousseff were "excessive, ... a vicious circle that the country must break," since it has led the federal government and regions such as Rio de Janeiro to the brink of bankruptcy in the face of an unprecedented financial crisis.
Temer's proposals, already passed by the lower house of Congress and now being debated in the Senate, have sparked a wave of protests including student demonstrations and the occupation of hundreds of schools and universities in opposition to his initiatives.
Students and others opposing Temer's policies argue that without growth in real expenditures investments in the poorest segments of the population will be restricted when they need more resources in education and health care.
Temer has warned protestors that "it is necessary to learn to respect institutions" and not "to use physical force to occupy (buildings) or burn tires on the streets to block traffic."
According to Finance Minister Henrique Meirelles, the adjustments proposed by the Temer Administration are "inescapable" because the country "is facing the deepest recession in its history" and can overcome it only "through realistic measures."
Brazil's gross domestic product fell 3.8% in 2015 and is expected to drop by an additional 3.3% this year. After Temer's speech, CNI president Robson de Andrade said that "Brazil is now on the right path" to overcome the recession.