Petrobras signs US$ 1.2bn contract for natural gas exploration in southern Bolivia
Friday, November 11th 2016 - 19:28 UTC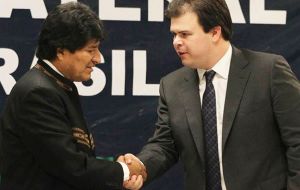 Executives of Brazilian state oil company Petrobras and Bolivian counterpart YPFB signed this week a contract for a US$1.2 billion natural-gas exploration venture in southern Bolivia. Bolivian President Evo Morales and Brazil's minister of mines and energy, Fernando Coelho Filho, traveled to Bolivia's eastern city of Santa Cruz for the signing ceremony.
"The investments of companies such as Petrobras and (Brazilian state electric company) Eletrobras are guaranteed by the constitution and under accords ratified, moreover, by our legislative assembly," Morales said.
He recalled that in 2006, his government paid compensation to Petrobras after nationalizing a refinery owned by the Brazilian firm.
Coelho is the first Brazilian Cabinet minister to visit Bolivia since a change of government in Brasilia following the congressional ouster of center-left President Dilma Rousseff. Morales has called for continued cooperation between Brazil and his country despite the dramatic developments in Brasilia.
As "brother neighbors," Brazil and Bolivia are obliged to work together, "respecting their ideological differences," he said.
He made a special point of asking Coelho to brief Temer on a Peruvian-Bolivian proposal for a railway to link Brazil's Atlantic coast with Peru's Pacific shore via Bolivia.
In addition to the Petrobras-YPFB deal, the meeting in Santa Cruz brought an accord to study the possibility of a hydroelectric projects on the Madera River, an Amazon tributary shared by Bolivia and Brazil.