Seven percent more Britons traveled to Argentina this year
Friday, November 11th 2016 - 08:57 UTC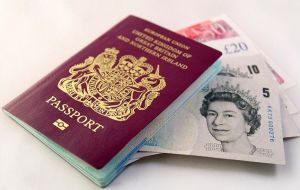 The flow of British tourists into Argentina until August this year recorded a seven percent increase when measured against data from 2015. Ten percent rise forecast for 2017, accoring to Argentine Minister of Tourism Gustavo Santos.
"The British market is very important for Argentina because it's 'ecotourism'-driven which is in tune with the new developments being carried out by the Ministry such as the Missionary Jungle, the Moconá Falls, the Iberá Parks and the Impenetrable," Santos said at the World Travel Market (WTM), edition 2016, in London.
Santos also pointed out that "Argentina needs to improve the offer of both international and domestic flights to generate quality work" and singled out the tax elimination in hotels for foreigners as an advantage that was well received by tour operators around the world.
The minister held meetings in London with Deputy Minister of Tourism of Colombia, Sandra Howard Taylor; the Brazilian tourism minister, Marx Beltrao and with airlines and local tour operators. Tourism authorities from various Argentine provinces were also in Santos' delegation.
During 2015, some 45,000 tourists from the United Kingdom traveled to Argentina, most of them to Buenos Aires. The Iguazu Falls, Mendoza, Tucumán, Salta and Jujuy were also popular destinations.
The British tourists, who spent more than 920 US dollars each, stayed in the country for an average 13 nights, while business travelers stayed 15 nights, adding more than 1730 dollars each to the local economy.