Kirchner years "downed" more aircraft than the 1982 Falklands conflict
Monday, November 14th 2016 - 08:04 UTC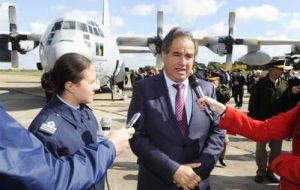 The dismal state of the Argentine armed forces was revealed by Defense minister Julio Martínez who claimed that the ten/twelve Kirchner years "downed" more Air Force aircraft than those lost during the South Atlantic conflict in 1982.
"We have to recover the military capacity of the country. In the Malvinas war, Argentina lost 70 aircraft and in the last ten years of Kirchnerism, because of lack of maintenance and investment, 100 planes were lost, at an average of ten per year" said the minister.
Martinez indicated that to the decommissioning of aircraft must be added the de-programming of weapons systems, the lack of spares and the mere obsolescence.
The last major purchase of aircraft to revamp the Argentine Air Force capacity was back in 1995 when 32 A4AR Sky-hawks were acquired from the United States, for 400 million dollars. However under the Kirchner administrations, the famous Mirage fighter bombers were decommissioned, and flew for the last time in November 2015.
This year a medium sized transport aircraft, the Fokker F/27 was taken out of service. The F-27 was used during the 1982 war for the transport of injured personnel, medicines and provisions and before that was in service with Argentina's LADE (State Air Lines). Only two F-27 are left and in 2018 the weapons system of the Sky-hawks A/4AR are expected to be de-programmed.
"All this was foreseeable: there was no planning all these years" according to Air Force sources who explained that the lack of funds impeded pilots from flying all units, and even some of the aircraft, which had been decommissioned were cannibalized to keep other units flying.