IMF anticipates a more gradual recovery of the Brazilian economy than forecasted
Wednesday, November 16th 2016 - 09:38 UTC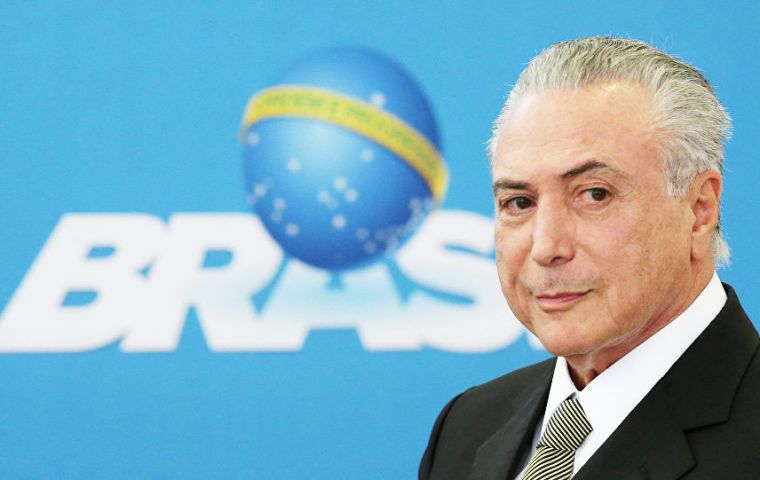 International Monetary Fund's executive board said on Tuesday that the Brazilian economy could be close to pulling out of a grueling recession, but faces a long and bumpy recovery that hinges on the approval of unpopular reforms. In its considerations of the IMF staff's annual report on Brazil, the executive board said that despite the new government's efforts to avoid a fiscal crisis they expected a gradual recovery in Latin America's top economy.
"Directors strongly emphasized the need for fiscal consolidation to ensure macroeconomic stability," the IMF said in a statement.
Disappointing industrial output and consumption data has diminished hopes of a faster recovery next year with some government officials scaling back their 2017 growth projections to 1% from 2%. The IMF is even more pessimistic with a forecast of 0.5% growth next year after two straight years of contractions.
According to the report, Latin America's largest economy has suffered its deepest recession in decades. Since the beginning of 2015, the unemployment rate has doubled to more than 11% and 2.7 million formal jobs have been lost. A gradual recovery is expected to start in the second half of 2016, assuming that reforms continue, political uncertainty diminishes, and that other economic shocks run their course. The IMF projects output growth of -3.3% in 2016 and 0.5% in 2017.
A sharp depreciation of the local currency Real since last week on concerns of a change in economic policies under U.S. President-elect Donald Trump has also raised worries about the recovery.
An IMF official said in a briefing that it is too early to measure the impact of Trump's future policies on Brazil, but that the country's ample reserves and free-floating foreign exchange regime may offer some protection.
Hopes of a quick bounce back were fueled by rising confidence after Michel Temer took over the presidency earlier this year following the impeachment of his leftist running mate Dilma Rousseff. Temer has introduced legislation to cap public spending and promised to overhaul the country's costly pension system, considered one of the world's most generous.
Although they praised those reforms, most of the board directors believe Brazil could benefit greatly by speeding up fiscal consolidation with measures to increase revenues.
Still, Temer has said he will not raise taxes unless those reforms fail to pass, echoing the opinion of some IMF directors who warned tax hikes may need to wait until the economy is on stronger footing.
The board was unanimous in its concerns over the weak finances of states and municipalities in Brazil. Many Brazilian states, including 2016 Summer Olympics host Rio de Janeiro, are struggling to pay their employees and honor their debt contracts.
The Supreme Court froze billions of dollars in revenues from a repatriation program last week after states filed suits to force the government to share more of that money with them.