Falklands to meet Red Cross in Geneva on DNA identification of Argentine combatants buried in Darwin
Friday, November 18th 2016 - 21:57 UTC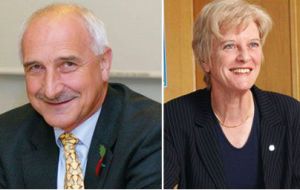 The Falklands government announced on Friday that MLA Mike Summers will be attending a meeting in Geneva, chaired by the Red Cross to forward agreements for DNA identification of Argentine combatants buried in Darwin. A follow up meeting in London for the signing of the agreements is scheduled, which will also include MLA Phyl Rendell, and to advance in other issues related to the September UK/Argentina joint statement referred to additional flights and fisheries scientific data exchange.
The release from Gilbert House follows:
"The Falkland Islands Government remains in close contact with HMG on how to take forward arrangements for the DNA identification of Argentine former combatants buried at Darwin Cemetery.
"Following receipt of the Report from the International Committee of the Red Cross (ICRC) in relation to their visit in June/July 2016, it was proposed that the next step should be a meeting of the parties in Geneva. The Joint Statement between the UK and Argentine Governments in September confirmed that discussions on this sensitive humanitarian issue should be taken forward, and that the wishes of the families concerned were paramount.
"A meeting will take place in December. The Falkland Islands Government will be represented by MLA Mike Summers, who will form part of the UK delegation. The formal meetings will be chaired by the ICRC. It is anticipated that these meetings will agree the content of a joint mandate for the ICRC to carry out the work.
"It has also been proposed that there should be a follow-up meeting in London to sign the necessary agreements on DNA, and to carry forward discussions on other issues included in the joint statement of September 2016. MLA Phyl Rendell will join MLA Mike Summers for the follow-up meeting, where it is anticipated that FIG's proposals for additional flights will be explained, and options will be explored for improvement in scientific data exchange and co-operation in fisheries science.
"All discussions will be held in accordance with paragraph 2 of the joint statement of 19 October 1989 (the Sovereignty Umbrella), and will specifically not include any discussions on sovereignty.
"Members will report on the content and outcomes of those meetings on their return".