Former governor of Rio do Janeiro arrested for allegedly embezzling public works funds
Friday, November 18th 2016 - 08:53 UTC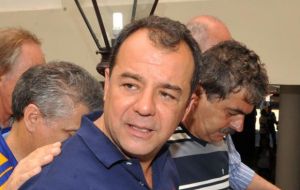 The former governor of the Brazilian state of Rio de Janeiro was arrested Thursday for allegedly embezzling funds intended for public works projects, authorities said. Sergio Cabral was apprehended at his home in Rio de Janeiro city's Leblon neighborhood just one day after another former governor of that same state, Anthony Garotinho, was detained on suspicion of attempted vote-rigging.
Cabral was arrested in an operation linked to Brazil's massive Car Wash investigation, in which prominent business leaders and politicians have been embroiled in a bribes-for-inflated-contracts scheme centered on state oil company Petrobras.
Prosecutors accuse Cabral of receiving during his 2007-2014 tenure some 224 million Reais (US$66 million at the current exchange rate) in bribes from large construction companies hired to carry out public works projects in the state. Police also arrested his erstwhile top aide, Wilson Carlos, and other two former close advisors on corruption, money laundering and criminal conspiracy charges.
Prosecutor Lauro Coelho Junior said at a press conference that during Thursday's operation to apprehend Cabral and the other former members of his government authorities confiscated numerous extremely valuable works of art and other items they suspect were bribes in kind.
The arrest of Cabral, a member of the ruling Brazilian Democratic Movement Party, or PMDB, comes amid a wave of protests in crisis-hit Rio de Janeiro state by public employees angered over planned budget cuts.
The Federal Police said authorities learned of this latest corruption scheme thanks to a plea deal reached with executives from the companies Andrade Gutierrez and Carioca Engenharia who have been ensnared in the Car Wash probe.
That broader investigation has unearthed a scheme in which Andrade Gutierrez, Odebrecht and other large Brazilian construction and engineering companies allegedly overcharged Petrobras for contracts and split the extra money with corrupt oil company executives while setting aside some of the loot to pay off politicians who provided cover for the graft. The scandal is estimated to have cost Petrobras as much as US$2 billion.