"Money must serve rather than govern" Francis tells conference of Catholic businesses
Friday, November 18th 2016 - 11:36 UTC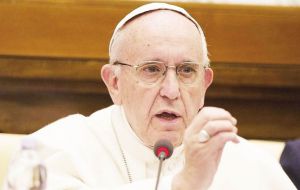 Pope Francis warned Catholic business leaders against the danger of worshipping money, saying corruption is to follow the lies of the devil, whereas practices aimed for the common good are always built around principals of honesty and fraternity. "Corruption is the worst social plague. It's the lie of seeking personal gain of that of the group itself under the guise of a service to society," the Pope said on Thursday.
The attitude of corruption "is the crassest selfishness, hidden behind an apparent generosity," he said, noting that corruption stems from the worship of money and comes back warp the worshipper, making them "a prisoner of that same worship."
Corruption, he said, "is a fraud to democracy" and opens the doors to "terrible evils" such as drugs, prostitution, human trafficking, slavery, the sale of organs and arms trafficking. Above all, "corruption is to become a follower of the devil, the father of lies."
Pope Francis spoke to hundreds of business leaders inside the Vatican's Apostolic Palace during a Nov. 17-18 International Conference of Associations of Catholic Businesses. Organized by the Pontifical Council for Justice and Peace, the gathering's theme was: "Business leaders: agents of social and economic inclusion."
In his lengthy speech delivered in Spanish, the Pope noted that business activity is constantly plagued by "a multitude of risks," the first of which, according to Francis, is "the risk of using money."
Francis has often spoken about the danger of putting money at the center of one's life and activities, calling it "the dung of the devil." He told the business leaders that, as stated by the Fathers of the Church, money and riches "are good when they are put at the service of the other," but otherwise "they are wicked."
"Because of this, money must serve rather than govern," he said. "Money is only a technical instrument of intermediation, of comparison of values and rights, of the fulfillment of obligations and savings."
As with everything technical, money has no neutral value, but "acquires value according to the purpose and circumstances in which it is used," the Pope said, explaining that when the neutrality of money is promoted, "it is falling into power."
Businesses, he said, "must not exist to earn money, even if money serves to measure its function. Business exist to serve."
Pope Francis stressed the need to recover the full social meaning of financial and banking activities, which must always be accompanied by the "intelligence and inventiveness" of entrepreneurs.
To do this implies taking the risk of "complicating life" and having to renounce certain economic gains, he said, insisting that credit must be accessible for housing, for small and medium-sized businesses, for farmers, educational activities, for health and for the "improvement and integration" of the poorest urban centers of society.
He cautioned that "a crematory logic of the market" makes credit cheaper and more accessible for those who are wealthier, yet more expensive and difficult for those who have less resources "to the point of leaving the poorest sections of the population in the hands of unscrupulous users."
At an international level, the risk is that financing poorer countries can easily become "a usurious activity," Francis said, adding that even if one accepts the creation of business procedures accessible to all and which benefit everyone, "a generous and abundant gratitude will always be needed."