Venezuela loses Mercosur voting rights in December, announces Uruguay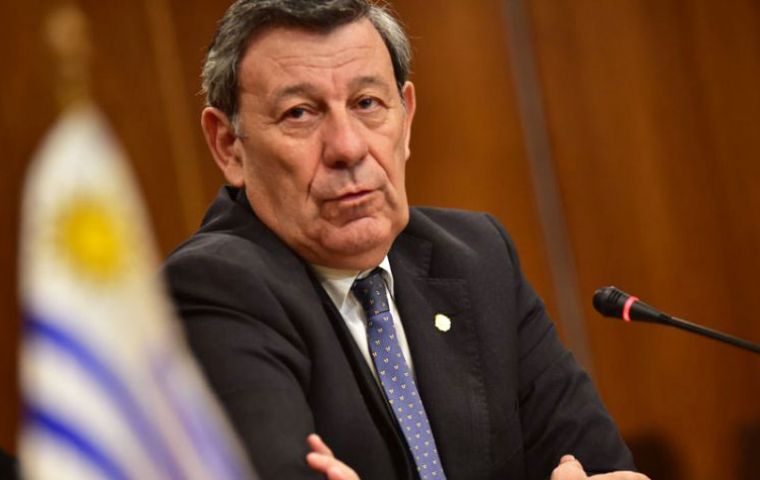 Venezuela will continue as member of Mercosur but with no right to vote, since it has not fully incorporated all the group's rules and regulations as had been agreed, revealed Uruguay's foreign minister Rodolfo Nin Novoa on Friday in Montevideo.
"For Uruguay what is going to happen in December is that Venezuela will cease to be a member with a vote, because it has not complied with what was agreed", said Nin Novoa.
Last 13 September the four founding members of Mercosur (Argentina, Brazil, Paraguay and Uruguay) agreed that Venezuela which was incorporated as full member with all rights in 2012, could not hold the chair of Mercosur since it had not ratified all the accords of the block.
At the time Mercosur called on Venezuela to incorporate "over 300 rules and regulations" to comply with the full member conditions. Argentina, Brazil and Paraguay, with the abstention of Uruguay, which facilitated the consensus rule of the group, decided that if by December first Venezuela had not incorporated the 'legal package', it would be indefinitively suspended from Mercosur.
However Nin Novoa said that for the other member countries, the situation has now changed and want Venezuela out. But from Uruguay's point of view "we are against that, because besides there are no rules on the issue".
Mercosur is in the midst of a serious situation because of the group's pro tempore chair dispute, which was held by Uruguay until last 29 July. On that very day Uruguay announced its time was over and returned the chair which was immediately taken over by Venezuela, following on the alphabetical order, despite the strong opposition from Argentina, Brazil and Paraguay. Finally there was no formal transfer ceremony or the usual presidential summit.
Argentina, Brazil and Paraguay oppose Venezuela arguing the president Nicolas Maduro regime does not abide with democratic practice or respect human rights.
A meeting is scheduled next week in Buenos Aires to address the Venezuela situation and make preparations for Argentina to officially take over the Mercosur pro tempore chair sometime in mid December.