APEC summit criticizes protectionism and consider Asia-Pacific free trade area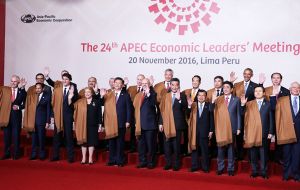 Peruvian President Pedro Pablo Kuczynski brought the Asia-Pacific Economic Cooperation summit to a close in Lima on Sunday with a message against protectionism and awareness that the meeting was held "at a key moment in the world's economic history."
At a press conference at the close of the conference, which gathered the 21 leaders of the APEC bloc, the president called the summit a success in that the attendees agreed "to carefully study the possibility for an Asia-Pacific Free Trade Area."
Kuczynski said that the meeting was productive and comes at a critical time for the world economy "due to the trends against foreign trade that we have seen in some recent elections in important countries."
He added that to combat those tendencies, the leaders in Lima - including U.S. President Barack Obama, Russia's Vladimir Putin and China's Xi Jinping - decided to move forward with examining the prospects for a free trade area, along with the Trans-Pacific Partnership as a transitional step toward such an overarching pact.
He said that with the possible opposition of the incoming U.S. administration of Donald Trump to the TPP, the APEC economies - which include 12 of the countries participating in the TPP - should now focus on moving forward with a free trade area.
However, he said that nobody was going to discard the TPP before knowing "what's going to happen" in terms of Trump's stance on that agreement.
Meanwhile, Obama said at the post-summit press conference that the response to the challenges of a globalized economy is not to erect barriers to trade but rather to establish strong standards and protections for workers.
The U.S. leader reiterated his support for the TPP - which has been harshly criticized by Trump - and warned that not ratifying it would harm U.S. interests.
Obama also said that "reality" will force Trump to modify his stance on various proposals and rhetoric he put forward during the campaign, but he admitted that he could not "guarantee" that the new president will not pursue some of the positions he has espoused.
Obama's comments were in line with the final declaration emerging from the APEC summit.
During the summit, the assembled leaders had made an effort to transmit a message of calm about the future of the TPP, which establishes that to enter into force it must be ratified by countries representing at least 85% of the APEC bloc, a situation that means that U.S. ratification is indispensable