Fiscal vulnerability of Brazilian economy exposed at a business conference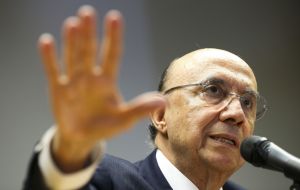 Brazilian President Michel Temer warned on Monday that the national debt could swell to the size of the country's gross domestic product within eight years should public spending not be brought under control and fiscal reforms not enacted.
Speaking to an advisory council of business leaders, Temer vowed to send a proposal to Congress next month to reform the pension system once lawmakers pass a spending cap. He asked the council to back the cap to revive confidence in the economy.
A 20-year-long ceiling on federal spending cap should pass Congress without changes in a few weeks, he added. The measure has cleared the lower house and is expected to win approval by the Senate by Dec. 13.
"The nature of Brazil's crisis is fiscal. For too long, governments have spent more than they earned," said Temer, who replaced leftist Dilma Rousseff, who was impeached and ousted earlier this year from breaching budgetary laws.
In consolidated terms, the budget deficit is expected to close 2016 at around 10% of GDP for a second year, and the public sector debt currently stands at 71% of GDP.
It is expected to balloon to about 80% of GDP in a few years and could exceed 100% of GDP if spending is not curbed, Finance Minister Henrique Meirelles told the council.
Consolidated public sector data encompasses the pension system, the central bank as well as federal, state and municipal governments.
Temer's pension reform plan is expected to face fierce opposition from leftist parties and labor unions when it is debated in Congress next year. Most state governments in Brazil are "practically bankrupt" due to a heavy pension burden, Temer said.
Billionaire Abilio Diniz urged Temer to accelerate plans to proceed with auctions to build and operate infrastructure projects and licenses, so foreign investment would flow back to Brazil.
Diniz, the chairman of BRF Brasil Foods SA, the world's largest poultry exporter, said Brazilian companies and households are steeped in debt.
Brazil's economy has shrunk 10% in two years of recession, incomes have suffered and weak consumer demand has delayed recovery, according to Luiz Carlos Trabuco, chief executive officer of Banco Bradesco, Brazil's No. 2 private-sector bank.
The so-called Economic and Social Development Council, which convened to advise Temer, includes top businessmen. Among them are Jorge Paulo Lemann, Brazil's richest person with a fortune estimated at around US$28 billion, and Roberto Setubal, the outgoing CEO of Itaú Unibanco Holding SA, the nation's largest bank by market value.