Santander bank confident of Brazil's "rapid recovery"
Tuesday, November 22nd 2016 - 09:00 UTC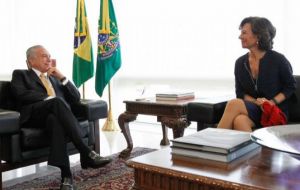 President Michel Temer met on Monday with Banco Santander chairman Ana Botin, who expressed the Spanish banking giant's confidence in Brazil's economic future despite the current downturn being experienced by Latin America's largest economy.
Temer and Finance Minister Henrique Meirelles met with Botin at the Planalto presidential palace, where the president explained the measures his administration had taken and was planning to implement to deal with the deep recession in South America's largest economy.
The Temer administration has cut spending, implemented structural reforms affecting labor laws and the retirement system, and streamlined the rules for domestic and foreign investors.
Botin, according to officials consulted attended the meeting with the head of Banco Santander's Brazilian unit, Sergio Rial.
The Spanish banker told Temer that she expected Brazil to experience a "rapid recovery" and emerge from the recession in which it has been mired for two years, the officials said.
Banco Santander has operated in Brazil since 1982, when it opened its first representative office in the country, where it is now the No. 3 private financial institution in terms of assets.