Economic crisis hits airline industry in Brazil, Venezuela. Low-cost carrier wants start operating in Argentina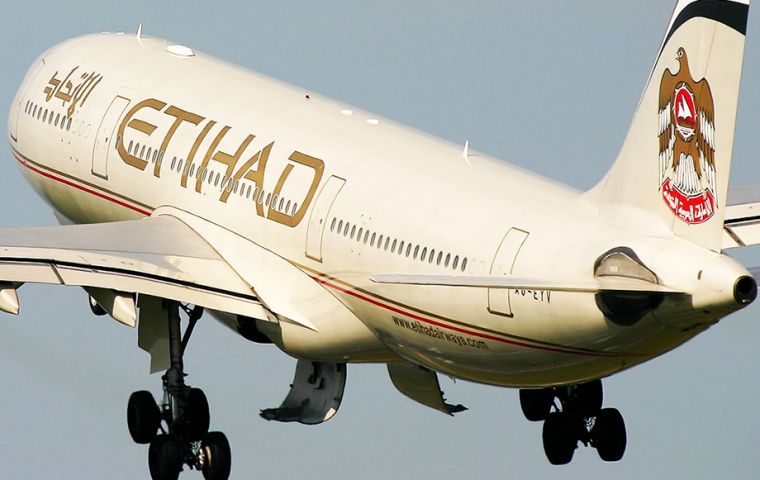 Etihad join list of Asian airlines that continue to drop their routes to South America's biggest market. New low-cost service aims at passengers who do not travel by plane today in Argentina and Venezuelan companies in dire straits to stay operational.
Etihad has announced it will cease its flights from Abu Dhabi to Guarulhos airport in Sao Paulo effective March 26, 2017. The route has been active since 2013 but the company's goals have not been met, it was reported.
The company issued a staement: "The current economic scenario in Brazil, coupled with the strong depreciation of the Brazilian currency, seriously affected the route between the United Arab Emirates and Brazil. The performance of the route has failed to meet our expectations, so the company was forced to make the difficult decision to suspend operations indefinitely."
Passengers who have made reservations after 25 March will receive a full refund of the tickets or will be granted the option of traveling with Alitalia (of which Etihad owns 49% of its shares) via Rome.
Besides Etihad, other Asian airlines which have stopped flying to Brazil due to the country's economic crisis are Singapore Airlines and Korean Air. On the other hand, Qatar announced a change of fleet on its Sao Paulo-Doha route which will mean 1071 more seats per week.
Meanwhile, Puerto Iguazú, Córdoba, Bariloche, Mendoza, Resistencia, Salta, Neuquén, Ushuaia, El Calafate, Comodoro Rivadavia, Río Gallegos and Tucumán might all have new services to Argentina's capital at prices below today's bus fare, according to Julian Cook, a representative of the Swiss investors that have registered the Flybondi trademark with local partners and will file the necessary paperwork next week.
"We do not intend to take passengers to Aerolineas Argentinas or Latam: we are after the people who do not travel by plane today," Cook explained. "Our average flight will be around two hours long and with airport stays that do not exceed 30 minutes, based on the efficiency and cost-benefit ratio of our operations," he explained.
"Low cost airlines have a 63% share of the market in Mexico, 56 % in Brazil, 30% in Chile and 7.5% in Colombia, 7.5% and growing stronger," Cook explained.
There is also an economic crisis in Venezuela, where airlines are counting their pennies to stay in business. Venezuelan Association of Wholesalers and Tourism Companies director Julio Arnaldes said on Monday that "since 2014 there has been a drop in the sale of air tickets that reaches 75%" and that by the end of the third quarter of this year "reports show a 40% drop in supply."
International tour operators consider this scenario to be a consequence of the debt that the Venezuelan State maintains with the international and local airlines. The costs have been described as "ridiculous" by Arnaldes himself, because a domestic flight of 30 or 40 minutes costs around US$ 16, while the same stretch anywhere else in the region would not sell for less than US$ 150.
He also said that companies that continue to operate have developed strategies not to lose their place within the market, such as cutting down their frequencies and replacing their fleet with smaller aircraft. Others, like Laser and Aserca have opened routes to Caribbean islands such as Curacao and Aruba, and to other countries such as the Dominican Republic, Panama and Ecuador, but their tickets are sold in bolivars at the official exchange rate.