Malcorra grateful to Panama for the standing and historic support in Malvinas sovereignty dispute
Thursday, November 24th 2016 - 15:51 UTC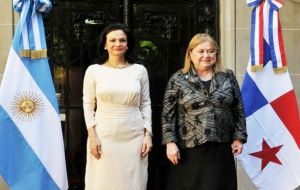 Argentine foreign minister Susana Malcorra thanked her Panama peer Isabel de Saint Malo for the standing historic support from Panama to Argentina´s sovereignty claim over the Falkland/Malvinas Islands, (under UK control), and looked forward to strengthening the excellent bilateral relations, according to an official Wednesday release from San Martin Palace.
Malcorra acknowledged the standing support from Panama to Argentina's "legitimate rights" in the Malvinas, South Georgia and South Sandwich Islands, and adjoining maritime spaces sovereignty dispute, as well as the support awarded in international forae the governments of Argentina and UK to resume negotiations for a peaceful and definitive solution to the dispute.
The two ministers likewise underlined the excellent bilateral relations and the need to continue advancing and strengthening the friendship links in the humanitarian, gender and human rights fields. A cooperation accord on migration issues, and helping disabled people, was also addressed.
In political, economic and trade issues the two ministers established their respective standings and how to proceed in multilateral forae and regional integration conferences. The recently signed memorandum of understanding on tourism exchange and promotion was also underlined as an example of the excellent relations.
The visiting minister who is also Panamanian vice-president also visited the Argentine congress and met with the Friendship with Panama Parliamentarian Group, and later shared lunch with vice-president Grabriela Michetti. Later in the day De Saint Malo held a round of talks with Finance minister Alfonso Prat-Gay; Education, Esteban Bullrich; Transport, Guillermo Dietrich and Gustavo Santos head of the Tourism portfolio.