Spanish U turn: "Gibraltar will be part of Brexit negotiations; we want to help in this process"
Friday, November 25th 2016 - 08:14 UTC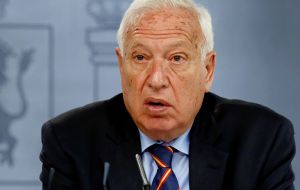 Gibraltar "will be part" of the Brexit negotiations, Spain's Minister for Education, Culture and Sport said on Wednesday, suggesting a marked shift from the hardline stance adopted by former Foreign Minister José Manuel García-Margallo.
Speaking at a press conference in Brussels, Iñigo Méndez de Vigo, who is also the Spanish Government's spokesman, reflected on the importance of the British expatriate community to Spain and said disagreements over Gibraltar should not be dramatized.
"We want to be helpful in this process," he told reporters. "We believe that the United Kingdom has been an actor of highest importance." He added "We regret the decision take by the British people, but we want to help them."
The minister's comments were made in English in response to a question from a Reuters journalist, who asked about the impact of Brexit on British expatriates living in Spain and also on the position in respect of Gibraltar.
His response is in stark contrast to the position repeatedly set out by García-Margallo before he was dropped as Foreign Minister by Spanish Prime Minister Mariano Rajoy and replaced with Alfonso Dastis Quecedo, a career diplomat with deep experience of the EU.
García-Margallo had repeatedly argued that once Article 50 was triggered, Gibraltar would not be part of any negotiation between the UK and the EU. Not only that, the former Foreign Minister had insisted Spain would block or veto any decision that was not in line with that view.
But on Wednesday Méndez de Vigo said Gibraltar had entered the EU with a special status as a colony of the UK and that after Brexit, this would no longer be the case. But he said this was an issue that "we have to discuss".
"Let's not dramatize it," he said.
"It will be part of the negotiations, and as Prime Minister Rajoy said to Prime Minister May, we want to be helpful and we want to help the people." He added, "at the end of the day, at the end of the process, I believe that we should try to find the best solution for…people."
Mendez de Vigo highlighted the fact that Rajoy had told MP Theresa May during their meeting earlier this year that Spain wanted to "help in this process".
He said the UK had been a key player in the EU and that Spain "…regrets the British people's decision, but we want to help."
As for the British expatriate community, he said he hoped Britons would remain in Spain after Brexit. "I think this is something good for them and good for us," he said."They are enjoying life, which is something important."