Shame on the USS Navy state of the art missile destroyer breaks down in Panama canal and has to be towed
Saturday, November 26th 2016 - 12:05 UTC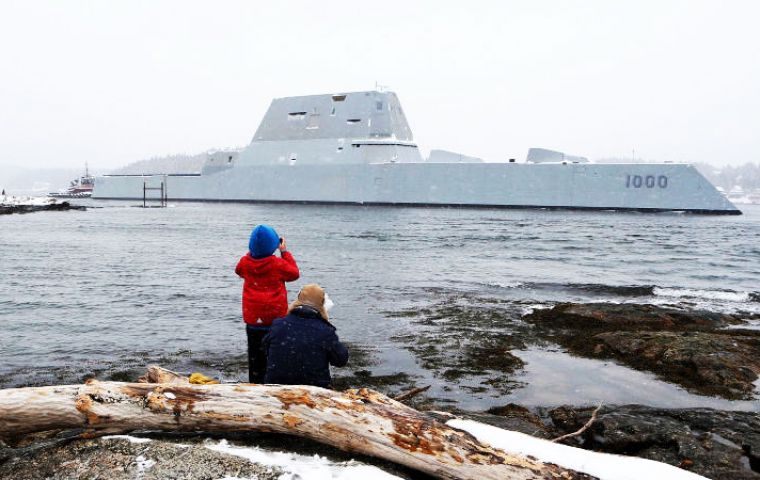 The most expensive destroyer ever built for the United States Navy has suffered an engineering problem in the Panama Canal and had to be towed to port. U.S. The 3rd Fleet spokesman Commander Ryan Perry says a vice admiral has directed the USS Zumwalt to remain at ex-Naval Station Rodman in Panama to address the issues. The ship was built at Bath Iron Works in Maine.
The 180 meters long warship has an angular shape to minimize its radar signature. It cost more than US$4.4 billion and was commissioned last month in Maryland. The guided missile destroyer, whose stealth capabilities give it a strikingly angular shape, needed to be towed Monday after suffering an "engineering casualty," the U.S. Naval Institute's news site reported.
The Zumwalt was en route from Baltimore, where she was commissioned Oct. 15, to San Diego.
Navy spokesman Perry said in a statement that "the timeline for repairs is being determined now."
An unnamed defense official told USNI News that repairs to the Zumwalt could take up to 10 days.
The US$4.4 billion Zumwalt is the first in a new line of revolutionary guided missile destroyers. The ship is roughly 180 meters long and displaces nearly 15,000 tons, making it the largest destroyer in the U.S. fleet.
But thanks to its angled hull and deck house, it is designed to look no bigger than a fishing boat on radar.
Its engines are electric powered, driven by an innovative integrated power system that may one day also support an array of energy-intensive weapons like lasers and electromagnetic rail guns.